COVID-19:  Coronavirus Updates and Resources
Coronavirus Updates and Resources

If you've had close contact with someone who is confirmed to have or is being evaluated for COVID-19, you should immediately contact the
Student Health Center
or your local provider for directions regarding testing and/or care.
Campus Updates and Communications
COVID-19 Cases  Video Updates and Tips
Prevention Strategies for Spring 2021
In order to be successful and stay face-to-face during the spring 2021 semester, we need to continue to work together as a community:
Truman to Follow Original Spring Semester Schedule
Truman will begin the spring semester Jan. 11, 2021, while continuing to follow the same safety protocols in place since the start of the academic year. As with the fall semester, classes will be offered in multiple formats, including in-person, online and a hybrid combination. The set-up for classrooms and common spaces will continue to allow for social distancing, and the campus-wide mask policy will remain in effect.
Read more>
---
Face Coverings Required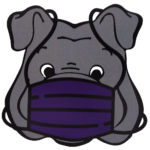 Tuman State University requires face coverings for all students, faculty, staff, and visitors while on campus. Wearing facial coverings at all times when inside university-owned and controlled buildings will be mandatory EXCEPT:
When in a private office (individuals may require facial coverings in their private offices)
For students, when in their assigned residence hall room
When eating and drinking
When an alternative has been approved as part of the Americans with Disabilities Act or religious observance accommodation processes
Outdoors when a social distance of at least six feet can be maintained
Maintain a social distance of six feet at all times.