COVID-19:  Coronavirus Updates and Resources
Coronavirus Updates and Resources

If you've had close contact with someone who is confirmed to have or is being evaluated for COVID-19, you should immediately contact the
Student Health Center
or your local provider for directions regarding testing and/or care.
Campus Updates and Communications
COVID-19 Cases  Video Updates and Tips
June 3, 2021
Classrooms to Return to Regular Capacities, Further Details Coming Soon
Starting this fall, all classrooms on campus will operate under their original usage guidelines.
Based on a variety of factors, including a decrease in the number of active cases, an increase in vaccination rates, and updated guidance from the CDC, classrooms will return to their usual capacities beginning Fall 2021.  This will permit all in-person classes that had to adopt a hybrid format to meet COVID protocols to return to an in-person format.  All activities may also be conducted in an in-person format.
Read more>
May 18, 2021
University Mask Mandate
As you are probably aware, the CDC modified its mask guidance on May 13, 2021 and updated it on May 16, 2021.
Consistent with keeping campus safety as a primary focus, our existing University COVID protocols, including the mask mandate for all buildings on campus, will remain in place until we establish a vaccination verification process.  Masks are not required to be worn outdoors on campus.
Read more>
May 3, 2021
Local Vaccine Providers
Missouri residents are now eligible for COVID-19 vaccines.
---
Face Coverings Still Required Indoors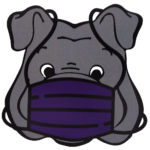 Truman requires face coverings for all students, faculty, staff, and visitors when inside university-owned and controlled buildings EXCEPT:
When in a private office (individuals may require facial coverings in their private offices)
For students, when in their assigned residence hall room
When eating and drinking
When an alternative has been approved as part of the Americans with Disabilities Act or religious observance accommodation processes
Outdoors when a social distance of at least six feet can be maintained
The University also continues to encourage everyone to practice social distancing, regular hand washing and sanitizing of shared spaces. For more details, visit "Health and Wellness."