COVID-19:  Coronavirus Updates and Resources
Coronavirus Updates and Resources
Oct. 18,
2021
Incentive Programs for Student Groups and Employees Encourage Vaccinations
In an effort to increase vaccination rates, the University is implementing two incentive programs – one for student groups and another for employees.
Read more>
Sept. 20, 2021
Mask Policy Remains in Place, Will be Reviewed Nov. 5
After considering a variety of factors, including recent campus surveys, the number of active cases in Adair County, the advice of public health professionals and CDC guidance, Truman will continue the current mask policy and will review and reevaluate the policy by Nov. 5.
Read more>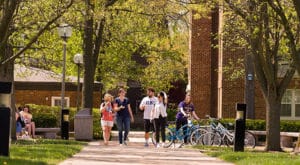 Classrooms return to typical capacity.
Resume academic calendar.
Clubs and co-curricular activities can meet and host events.
Faculty can utilize the course modality option that provides the best educational experience for students.
Masks
Masks are required inside all campus buildings, regardless of an individual's vaccination status.  The only exceptions are for dining and when in a personal residence hall room or office.
View Campus Mask Policy>
Vaccinations
While all students and employees are strongly encouraged to get vaccinated, there is no vaccination requirement at this time. For more information, visit our Health and Wellness section.