Academics During Pandemic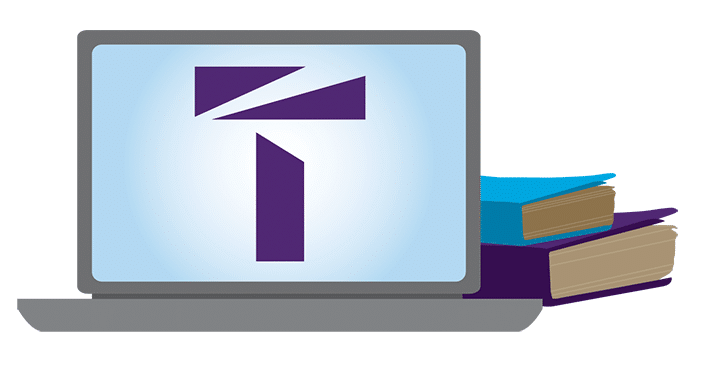 Summer 2021
Plan Ahead for Summer Classes Through Truman
The open course list for summer is available now in TruView with a variety of options for students, including online, hybrid and in-person delivery methods.
More details>
Spring 2021 Semester Course Delivery
As was the case for Fall 2020, courses for Spring 2021 will vary in their mode of delivery in order to preserve social distancing. Courses will be online or in person.  Others will be hybrid with students meeting in class on different days of the week.  As you review the Open Course List, you can find out the details of your prospective course's delivery by looking at the special notes on each course.  To do this:
Search for the course you are interested in taking using the Open Course List.
Once you have found the available sections of the course, click on the CRN number hyperlinked to the left of the course discipline and number.
The course notes that appear will contain details about the arrangements for your course.  We have asked departments to categorize their courses using the options below.
Online-Asynchronous
The course is fully online and students access content on their own at a day and time of their choosing.
Online-Synchronous
The course is fully online, but students meet in real time, on a regular schedule, with their professor and peers via Zoom or a similar platform.
Fully on Campus
All students meet in a regular classroom setting at normally scheduled times. All students can fit in the designated class space while social distancing.
Blended On Campus/Online
A combination of face-to-face and online learning. This may include an arrangement where students rotate through the classroom on different days or weeks or could involve a combination of synchronous or asynchronous activities depending on the circumstances of the course.
Flipped
The course is taught predominantly online, in an asynchronous format, but students are encouraged to periodically visit a classroom or laboratory space to work on problems, projects, or group discussions in a manner that respects social distancing. The primary work of the course is done outside of class.
Flexible
The course is intentionally designed to allow students to attend face-to-face or complete content online as it suits them, provided they meet the course objectives.
How do I find the Open Course List in TruView?
Login to TruView.
Click on Student Tab.
Go tob  Student Data channel box and click on Registration tab.
Click on Search Open Course List (see screenshot No. 1 below)
Screenshot No. 1: Student Tab in TruView ↓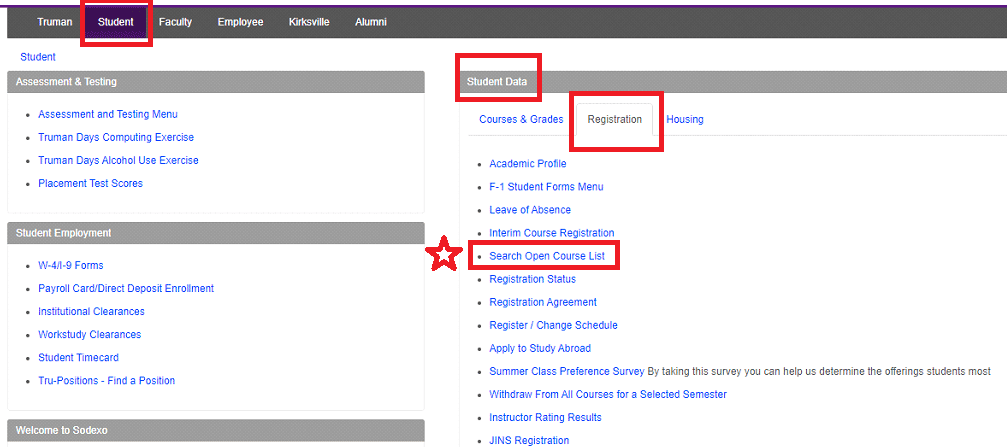 ---

How do I determine the type of course delivery for a specific class?
OVERVIEW
Online Courses:
If World Wide Web ONLINE is noted under "Where" in the section on "Scheduled Meeting Times" (see Screenshot No. 3 below), the course is online. The "Online Course with Special Fee" will display under "Attributes" but WILL NOT be assessed to student accounts.

Synchronous:
If a "Time" is listed with WWW ONLINE noted as "Location," the class will meet remotely via streaming video at the scheduled time.
Asynchronous:
If "Time" is listed as TBA, students will access materials on their own schedules.
Face-to-Face and Hybrid Courses:
If a "Time" and physical "Location" are noted, the course will be held face-to-face (in-person instruction) at least part of the time.
The course may be in-person all the time or a blended course with some students meeting in-person while others meet online on specific days.
Course Details:
To view detailed information about a specific course in "Sections Found," click information under "CRN" column (Screenshots No. 2 and No. 4).
Screenshot No. 2: Open Course List/Sections Available ↓

---
Screenshot No. 3: Open Course List/Class Schedule Listing ↓

---
Screenshot No. 4: Open Course List/Course Details ↓
When you click on information in the "CRN" column (marked on Screenshot No. 2), you can view more details about the course (see screenshot below).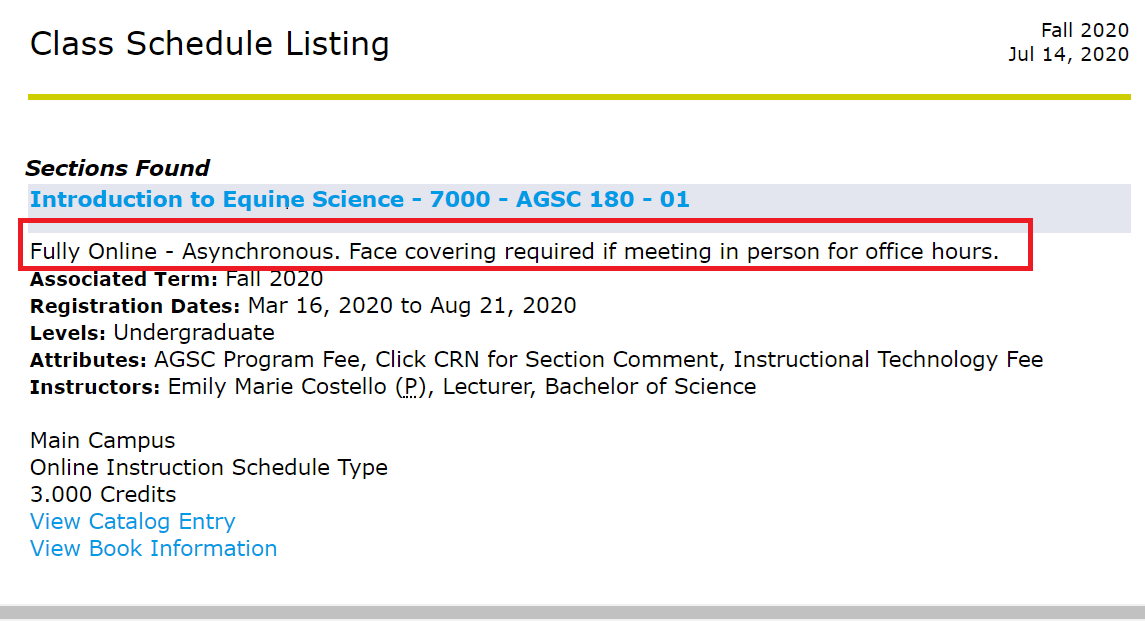 Additional Information
Students who become ill or who need to quarantine or self-isolate should contact their instructor as soon as possible to inform them of the situation and explore possible contingency plans.
Administrators and faculty will develop instructional continuity plans to manage the potential for instructor absences.
Faculty are required to hold regular office hours. These hours should be posted and indicate whether they are virtual and/or in person.  If a student requests an in-person meeting, faculty should endeavor to accommodate this request.
Seating for in-person classes will be arranged so that adequate physical distancing can be maintained. To aid in contact tracing, faculty will use assigned seating and maintain daily attendance records. Furniture should not be rearranged so that seating chart arrangements and social distancing are not disturbed
---
 Advising
Center for Academic Excellence
Students who have questions about their fall schedules should contact the Center for Academic Excellence (CAE), advise@truman.edu. The CAE will be working in conjunction with designated faculty members from each of the academic departments to best address student questions/needs.