You've been making connections and racking up experiences, and now you're ready to take your educational pursuits to the next level. Whether you plan to pursue a Master's degree at Truman or already have a Bachelor's degree and would like to take undergraduate or graduate courses, you can find the application information below that's most appropriate for your needs.
PLEASE NOTE: Our new application system is here! If you have any problems or suggestions regarding the application system, please contact Bethany at gradinfo@truman.edu. Thanks for your patience!
Graduate Application
There is a $40 application fee for degree-seeking graduate students.
Application deadlines and requirements vary from department to department. To review information specific to the graduate program that interests you, see "Areas of Study" in the menu to the left.
The application fee is waived for McNair Students with a Fee Waiver Application on file. Contact gradinfo@truman.edu for an application.
Non-Degree Seeking Application
The $40 application fee is waived for non-degree seeking students.
Already have a Bachelor's degree and want to take undergraduate or graduate courses but don't plan to pursue a degree? You should complete the Graduate Application (even if you plan to only take undergraduate-level courses). On the second page of the application titled "Enrollment Information" in the drop-down menu next to "Program," select the "Non-Degree-Seeking" option.
International Student Application
The $40 application fee is waived for international students.
All international students—even those who are Truman alumni or currently enrolled undergraduates at Truman State University—will need to complete the International Student Application.
International students who completed an undergraduate degree at Truman are entitled to in-state tuition by means of a fee waiver for the difference between in-state and out-of-state tuition. This waiver can be obtained by filling out this form.
---
Have Questions?
If you ever have any questions, our friendly staff will be happy to talk with you! You can contact the Graduate Office.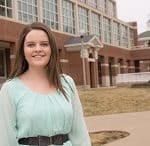 During my time here, I have benefited from study abroad, internships, professional and freelance employment in my field, volunteerism, extracurricular activities, and so much more!