Visit Truman State University Today!

We invite you to visit Truman State University, located in Kirksville, a charming and welcoming college town in the northeast corner of Missouri. To help you plan your visit, here are some mileage estimates from cities in our tri-state area which includes Missouri, Iowa, and Illinois: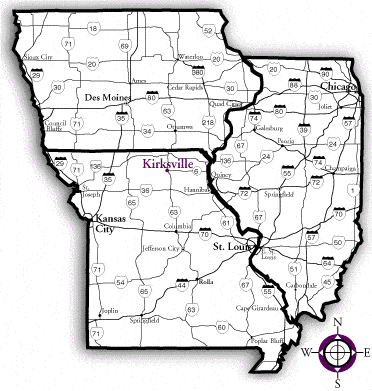 Missouri
Columbia:  90 miles
Hannibal:  85 miles
Kansas City:  170 miles
St. Louis:  195 miles
Illinois
Chicago:  380 miles
Peoria:  200 miles
Quincy:  75 miles
Iowa
Davenport:  200 miles
Des Moines:  150 miles
Ottumwa:  60 miles
My favorite aspect of Truman is the sense of community. I love knowing so many people around campus and having so many great opportunities that I might not have at a larger university.