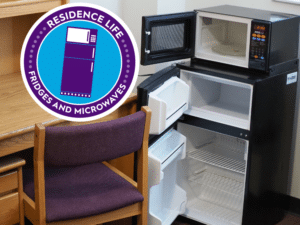 Want to store food in your room, but don't want to deal with the hassle of moving your own mini-fridge every year? You can rent one of Reslife's Microfridge units!
---
What exactly is a Microfridge?
A Microfridge is a 2.9 cubic ft. refrigerator/freezer with a microwave attached to the top of the unit. This configuration uses less power so it can be used in all residence halls across campus.
Why should I rent a Microfridge through Truman?
Our units are industrial strength and built to last. Many mini-fridge units and small microwaves available in stores are low quality and break down easily.  If the Microfridge that you rent through us stops working through no fault of your own, we will remove the broken one and bring you a working one within two business days.
How much is it?
Microfridges are only $150.00 for the entire year or $75 for the spring semester. If either you or your roommate rents a Microfridge, the renter will be billed for the cost at the beginning of the semester. The amount will only be charged to one resident's account.
Can I get just the fridge or just the microwave?
The refrigerator and microwave are both a part of the same Microfridge unit, and cannot be rented separately. Residents are NOT permitted to detach the microwave from the top of the Microfridge unit.
Where do I sign up?
To sign up for a Microfridge to be placed in your room in time for the fall semester, please indicate it on your housing application in the Housing Portal in Truview before Aug. 1. For Spring Only applications, please indicate it on your housing application before January 1st.
To sign up to have a Microfridge placed in your room after August 1 or during the spring semester, please complete a Microfridge Rental Request/Contract.  Requests placed after August 1 are not guaranteed to be placed in a student's room prior to the start of school.
NOTE: Campbell Apartment residents are provided a full-size refrigerator with their apartment and are not eligible to rent a Microfridge.
What if something doesn't work?
If a problem arises, simply complete the MicroFridge Action Request, and we will replace any faulty unit within two working days.
What if I want to cancel my Microfridge unit because I no longer want it?
If cancelled prior to August 1, the student who signed up will be refunded in full.  If cancelled after August 1, no refund will be awarded.
If a resident rents a Microfridge for the spring semester, they may receive a full refund if cancelled prior to January 1. If cancelled after January 1, no refund will be awarded.
After August 1, or January 1 for spring rentals, the student who signed up may wish to find another individual living on campus to transfer the unit to. NOTICE: The charge from Residence Life WILL NOT be taken off of your student account — reimbursement will have to be mutually agreed upon by you and your roommates. Please email reslife.truman.edu to receive instructions on this process.
What if I move rooms during the year?
If you have the Microfridge contracted in your name, then the unit can come with you when you move Residence Hall rooms. You can fill out the MicroFridge Action Request to request having your unit moved to the new room.
What do I do with the Microfridge when I'm ready to check out for summer?
Please make sure your Microfridge is completely defrosted and cleaned thoroughly before you say you're ready to check-out or you could be charged a $25 cleaning fee. Your student advisor or apartment manager will give it a once-over when you check out of your room.
You break it, you buy it!
Remember to take care of your Microfridge unit — general maintenance of the unit will keep it running for many years to come!
When you sign your Microfridge contract, you're promising to reimburse Truman State University for any and all loss or damage to the units from any cause whatsoever.  The cost to replace one of these units is $520.
**Residents are permitted to have small refrigerators (2′ x 3′ x 2′) in all housing facilities.
---
Have any questions about Residence Life, Housing, or Dining? 
Contact us at 660-785-4227 or reslife@truman.edu.