Truman State University's
29th Annual Undergraduate Philosophy and Religion Conference
Saturday, November 10, 2018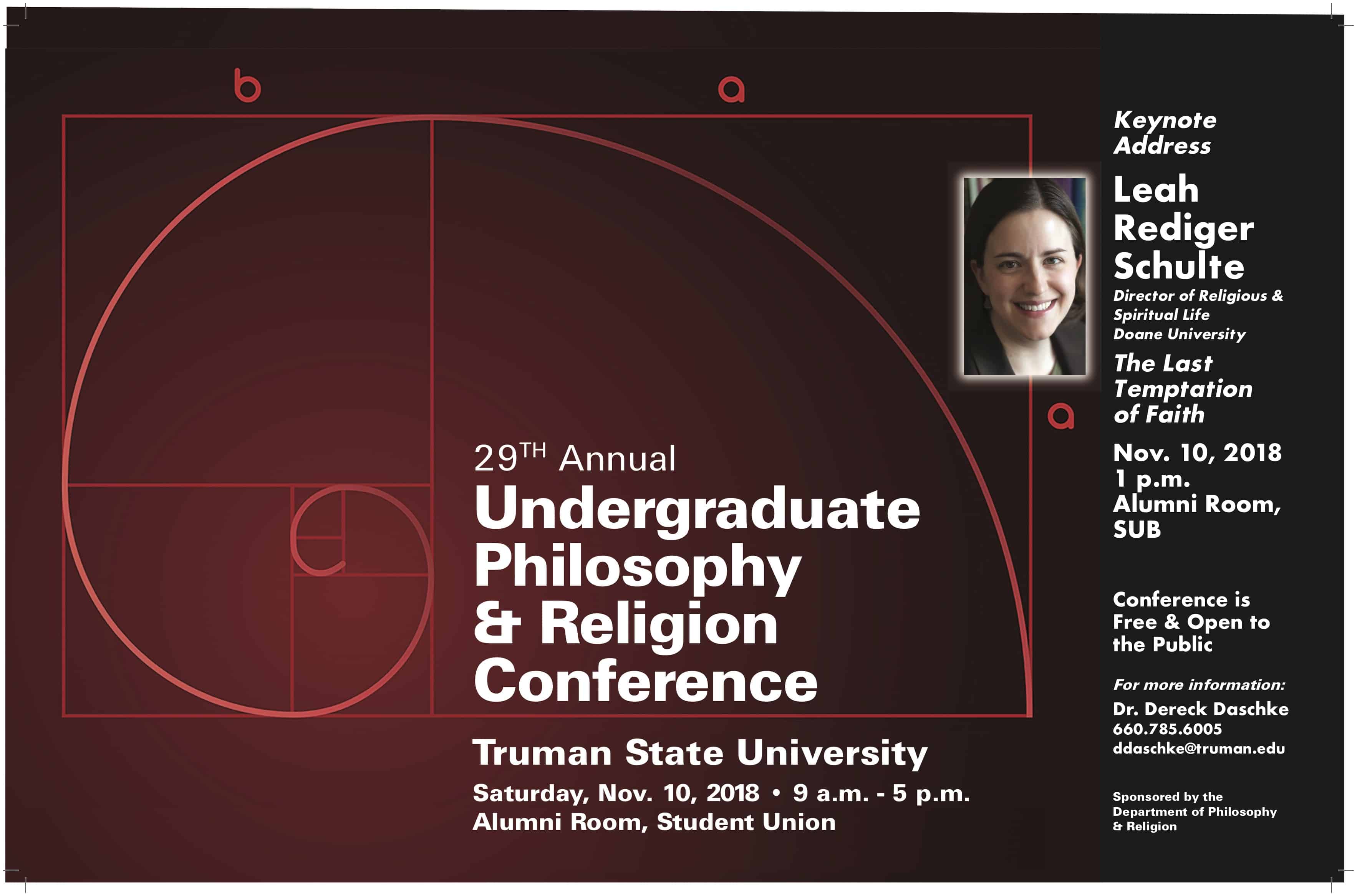 9:00 a.m.               WELCOME: Dr. Dereck Daschke, Professor of Philosophy & Religion
9:05 a.m.               Hannah Pohl, Truman State University, Kirksville, Missouri
"Witchcraft in the Azande Tribe"
Within the context of this paper, the concepts between Witchcraft and the African Azande Tribe will be discussed. Specifically, how the Azande tribe adopted key concepts from Western European religions and molded them to fit their own beliefs of witchcraft and the structure of their culture.  While witchcraft in Europe holds a stigmatization, the lens of witchcraft has a different view through a culture that integrates many witchcraft practices and beliefs into their society, and way of life. Although, there are Christian and even Islamic influences to the witchcraft belief in Azande due to colonization, the Azande tribe represent a community who molded influences from other cultures to fit their own construct of spiritualistic beliefs.
9:35 a.m.               Hannah Feehan, Truman State University, Kirksville, Missouri
"Islam and Homosexuality's Complex Relationship"
This paper reviews the theological and social relationship between Islam and the members of the members of the LGBTQ+ community, with a focus on a sexual attraction to the same sex. It also explores the interactions between primarily white, Christian politicians in America, the LGBTQ+ community and Islam. There has been an escalation of political rhetoric and action against the Islamic world by claiming the religion and culture is inherently homophobic. However, this paper argues that the arguments used by the politicians are hypocritically using homophobia in Islam to justify Islamophobia and xenophobia.
10:05 a.m. BREAK
10:15 a.m.            Lukas J. Myers, Millikin University, Decatur, Illinois
"The Paradox of Epistemic Peership"
What does reason tell us we ought to do if we find ourselves in disagreement with others? Richard Feldman tells us that, if our peers are theists and we are atheists, reason dictates that we ought to take a "middle view" or we ought to suspend judgment. This is known as the Equal Weight View. But what is an Epistemic Peer? I argue that Richard Feldman's proposed definition has within it an ancient paradox. I analyze the possible solutions to that paradox, and come to the conclusion that we should contextualize our concept of peership. This may challenge the understanding of the Equal Weight View.
10:45 a.m.      Jacob Barrett, Nebraska Wesleyan University, Lincoln, Nebraska
"From Jewish Sect to Christian Religion: Why the Two-Gospel Hypothesis is More Accurate than the Two-Source Hypothesis"
The dominant Two-Source hypothesis regarding the Synoptic Gospels assumes that Mark was written first, necessitating the existence of the speculative Q.  Although taught as unquestionable since the nineteenth century, an alternative and less popular hypothesis better accounts for the historical and societal context of transition from minority Jewish sect to Christian religion.  Exclusively teaching the Two-Source hypothesis as scholarly orthodoxy reproduce it as the only possible interpretation at the cost of theology, history, practicality, and tolerance.  Ignoring the Two-Gospel hypothesis undermines the critical study of religion and keeps the study of Christianity in a faith-based environment that neglects critical thought.
11:15 a.m.            James Kohlmann, Nebraska Wesleyan University, Lincoln, Nebraska
"Gimme That Old Time Religion"
In a country plagued by the hateful acts of white supremacists against religious and ethnic groups, it is necessary to examine how white racists use religion to justify their actions if a solution is going to be found. Members of the KKK identify as Christian, using Christianity's texts and rhetoric to support their cause. Studying the KKK as a religious movement provides potential ways of confronting racial/religious divides in America. This presentation examines how the KKK is a religious movement within Christianity, and why studying the KKK is important within the critical study of religion in university and beyond.
11:45 a.m.  LUNCH
Dr. Daschke will escort conference participants and faculty mentors to lunch.
1:00 p.m.   KEYNOTE ADDRESS: "The Last Temptation of Faith"
Dr. Leah Rediger Schulte, Director of Religious and Spiritual Life
Doane University, Crete, Nebraska
Dr. Rediger Schulte holds a Ph.D. in Women's Studies in Religion with an emphasis in Hebrew Bible/Old Testament from Claremont Graduate University (Claremont, CA). She graduated from Truman State University in 2004, with a BA in Music Education and Philosophy & Religion. Her research interests include women in the Bible, women and gender in world religions, feminist theo(a)logies, and interfaith conversations. Her first book, The Absence of God in Biblical Rape Narratives (Fortress, 2017), considers the impact of rape culture on the interpretation of biblical rape narratives. As Director of Religious and Spiritual Life at Doane University, she provides resources for students as they seek spiritual growth within their own religious/spiritual traditions, and encourages her campus community to strive for interfaith cooperation.
2:00 p.m.               Viveca Power, Nebraska Wesleyan University, Lincoln, Nebraska
"Connecting Catholic Churches"
The new religious movements of American Catholic churches differ from the Roman Catholic Church in their practices of gender and LGBTQ+ inclusion, progressive ideals, and power distribution. My paper explores the similarities between the well-established Roman Catholic Church and its new schism groups through their theology, liturgy, and methods of maintaining order. These sects display classic examples of tactics new religious movements use to establish and legitimize their group. Some new religious movements make researchers uncomfortable because of the researchers' own beliefs or the perceived novelty of the groups, but this is all the more reason to study them.
2:30 p.m.        Austin Green, Truman State University, Kirksville, Missouri
"The Catholic Victory"
The 1960's were a decade marked by extreme social change and that year's election was just a taste of what was to come. John F. Kennedy's victory over Richard Nixon resulted in a Catholic attaining the most powerful office in the Western World. This research was conducted to display the boundaries that a Catholic had to face in his pursuit of American voters' support in a new era of politics. Results show that Kennedy's religious victory was followed by a general change in the behavior of Christian voters, particularly exemplified by the Catholic move towards the Median American voter.
3:00 p.m.               Kasey Hohlt, Truman State University, Kirksville, Missouri
"The Fight of Medieval Female Mystics for Public Roles"
This paper analyzes the ways female mystics during the Middle Ages would use their mysticism to engage with the general populace at the time.  These medieval Christian mystics had supernatural visions and then wrote about them—preserving their visions for years to come.  In my paper, I use both primary and secondary sources to demonstrate how these women would try to engage with the outside world in ways that were uncommon for women at the time.
3:30 p.m.   BREAK
3:35 p.m.               Julie Le, Creighton University, Omaha, Nebraska
"The Forbidden 'We' in Feminist Language"
This paper addresses a linguistic problem within the field of feminism. The purpose of the paper is to explore the need for the use of the first-person plural pronoun "we" in feminism. For a long time, authors including: Simone de Beauvoir, Maria Lugones, and Elizabeth Spelman have argued for the strict use of first-person singular pronouns. To argue against the aforementioned feminist authors, John Perry's linguistic theory is introduced to support the use of "we" in feminist language. Ultimately, the paper concludes that the feminist movement needs inclusive language to encourage and prompt collective action.
4:05 p.m.               Alexander Waitkus, University of Central Arkansas, Conway, Arkansas
"Postmodern Theology: An Open Canon"
In our secular society of today, the discipline of traditional theology has been left gutted. We may think that that is all well and good. However, there is an essence, an insistence, to be found in theology and the name of God. Should we fully relinquish this discipline, we would absolutely be letting go of a kernel of importance which we cannot afford to ignore in our world. In engaging in the amorphous postmodern theology, we can succeed in allowing the religion to fall away, while still internalizing and revitalizing the insistence of God back into the secular world of today.
4:35 p.m.               Braidon Beard, Pittsburg State University, Pittsburg, Kansas
"Faith in Post-Apocalyptic Society"
Given the diverse genres of video games, theorists attempt to underline the successful aspects of various games to highlight what was done well. Through examining how video games utilize players' understanding of real life, how elements of religious ideologies (and lack thereof) only add to the diversity of video game experiences, and how non-playable characters are brought to life through the formations of their own worldviews, it is argued, using the Fallout franchise as an example, that religion is a necessary component for video games set in North America, specifically those of the post-apocalyptic genre.