"I entered the PHRE degree program because of interest in the subject matter rather than having a firm grasp on what I wanted to be when I grow up.  Through a robust curriculum and tremendous faculty, I learned skills that have helped me thrive throughout my career.  My PHRE degree provided me with skills in research, logic and argumentation. Perhaps most importantly, I learned how backgrounds and ideas influence belief and how to communicate with diverse groups by being mindful of others, a skill that is important in any career field."
     -Travis Sewell, PHRE, HIST '07
      Director, Philanthropy Operations-St. Louis Symphony Orchestra
As a philosophy and religion major at Truman, you learn critical thinking skills, conduct collaborative research with faculty, extend your learning beyond the classroom, and meet like-minded peers at conferences both on and off campus. Truman also offers a philosophy and religion minor.
Explore the Nature of Reality
Have you ever thought about questions like the following?
Are our actions free, or are they determined by social, cultural, or physical forces?
How do religion and science differ (if they do) in their approaches to seeking truth?
Where do ethical values come from?  What actions count as morally permissible?
In what ways have humans changed over time in their worldviews?
What do we know, and are there limits to human knowledge?  Could we be radically deceived about the world, like Neo in "The Matrix"?
How do world religions differ in their spiritual practices?  How are they the same?
If questions like these keep you up late at night, then the Philosophy and Religion major may be your ticket to intellectual nirvana. Learn to write persuasively about topics like these, speak and listen in ways that promote understanding, and read productively while balancing openness and critical reflection. You earn a Bachelor of Arts degree (and since philosophy and religion integrates so well with other academic areas, nearly half of our students pursue a second degree).
Experience the impact you can make by conducting research in philosophy and religion studies and submitting a paper to a conference of your peers, such as Truman's Undergraduate Philosophy and Religion Conference held on campus each year. You can also enrich your educational experience at Truman through study abroad and internships
Prepare Yourself for Real Life
There is no major more practical and marketable than Philosophy and Religion. To understand any human cultural system—whether political, social, scientific, economic, or psychological—we need to learn to recognize and analyze the philosophical and religious beliefs and assumptions grounding that system. And we prepare our majors to excel in the skills of critical and integrative thinking, communication, and creativity that employers and graduate schools are seeking.
Find out more about how practical and marketable a Philosophy & Religion major really is!
Our Graduates Succeed in a Wide Range of Career Options
Truman's philosophy and religion program provides a strong foundation for a variety of life situations:
Graduate or professional school: law, philosophy, theology, religious studies, information science, chemistry, library science, and music
Education: (see Master of Arts in Education)
Health Professions: nursing, hospital administration, elder care, and community health
Ministry: pastors, chaplains, and youth ministers
Non-Profits: grants, research, community theatre, sustainable communities, and state government
Discover more about the course requirements of the Philosophy and Religion major at Truman and view sample program.
What's Happening in Philosophy & Religion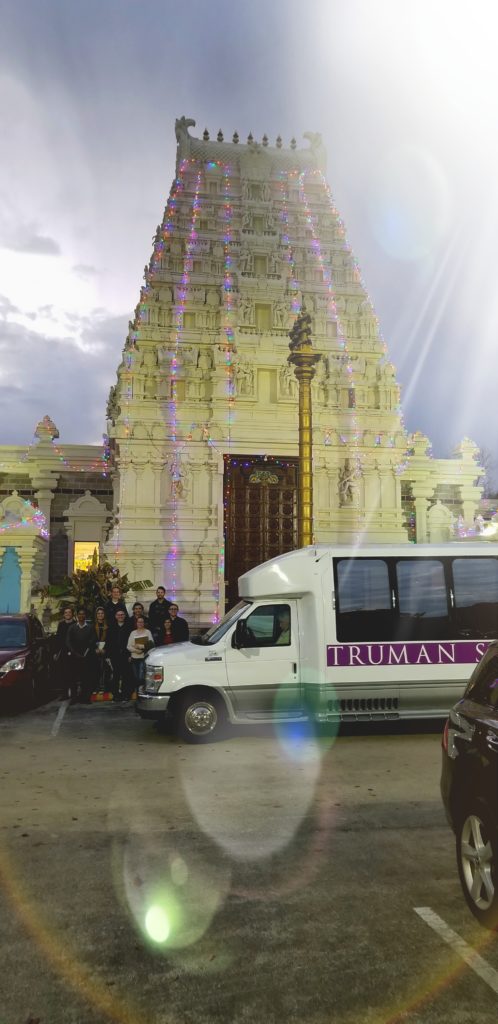 PHRE 310 Hindu Tradition field trip
December 2, 2018
  Check out the following photos from Dr. Pflueger's recent field trip to the Hindu temples of St. Louis with his PHRE 310 class.
October 19, 2018
  See the Truman Index article detailing this exciting new initiative.