The 33rd Annual
Philosophy and Religion
Undergraduate Conference
November 11, 2023
Baldwin Hall 114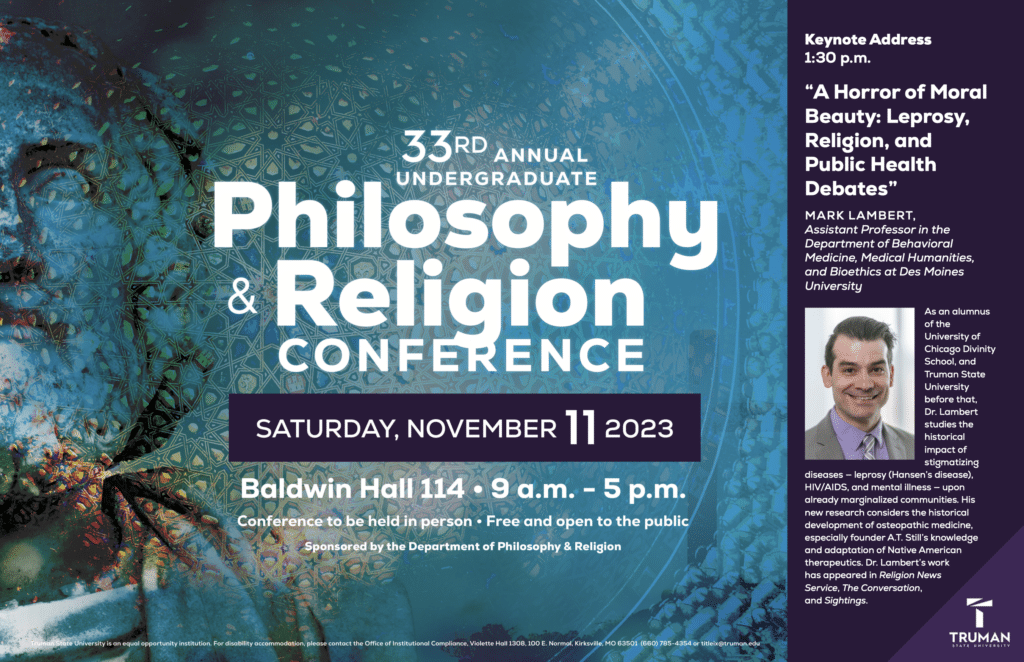 The conference is free and open to the public; no registration is required.
Conference Schedule
9:00 AM
Pre-Conference Socialization; light food and beverages available
9:25
Dereck Daschke
Truman State University
WELCOME
9:30
Kenzie Spigner
Creighton University
Redefining Sex and Sexuality
10:00
Madeline King
Creighton University
Testamentary Capacity: Justification for the Lucid Interval
10:30
BREAK
10:40
Tristan Corcoran
Coe College
A Response to Brie Gertler's "In Defense of Mind-Body Dualism"
11:10
Matthias Walters
University of Nebraska at Omaha
Something Called the 'False Dilemma Fallacy': A Return to Formalization Just This Time
11:40
LUNCH
Conference participants and their guests are invited to dine on campus, complements of the Department of Philosophy & Religion
1:30 PM
KEYNOTE: Dr. Mark Lambert
Des Moines University
 "A Horror of Moral Beauty: Leprosy, Religion and Public Health Debates."
2:30
Heidi Johnson
Creighton University
Religious Exemptions From Vaccinations
3:00
Corey Hannan
University of Nebraska Omaha
What is Good: Source of the Indefinable Nature of the Concept of Goodness
3:30
BREAK
3:40
Andrew Freund
Truman State University
Don't Stop Believing (Most of the Time)
4:10
Em Armstrong

 

Coe College
Psychological Egoism and Helping Others
The conference organizers gratefully acknowledge the support of the Department of Philosophy & Religion, the Dr. Patricia Burton Honorary Endowment, and the Student Selection Committee.
---
Find out more about recent past Truman Undergraduate Philosophy and Religion Conferences.
About PHRE Conference