Our business administration minor provides non-business majors with a basic understanding of management issues allowing you to expand your career options and demonstrate your versatility and flexibility on a resume.
Leverage Your Academic Connections

Pursuing a minor in business administration can complement any degree offered at Truman. Whether you are an art, music, history or science major, a background in business administration can make the difference in landing that all-important first job.
Learn Among the Best
Truman's School of Business is among the elite group of schools accredited by the AACSB International-The Association to Advance Collegiate Schools of Business, a confirmation of our commitment to quality business education. This accreditation ensures you're among a community of intellectuals who demand the highest standards—from intensive coursework, to dedicated professors, to the contributions made by highly motivated students.

Unlimited Opportunities for Your Extraordinary Talents
Once you have secured that first job opportunity, the business administration minor can help you move you up the ladder within your organization. In addition, should you decide to take a more entrepreneurial route and open your own theater, gallery or laboratory facility, you will have enough business background to help you succeed.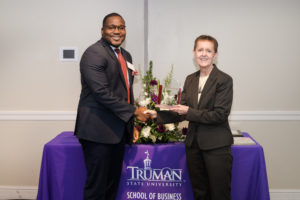 Amosu Named Young Alum of the Year
May 16, 2017
Ope Amosu is a Corporate Account Executive at GE, responsible for developing mutually-viable relationships between GE and each of the independent North American oil and gas operators. In conjunction, he leads the company's Oilfield Produced Water Treatment initiative. Ope is a 2010 graduate of Truman State University, earning a BA in Marketing. In 2014, he […]
The post Amosu Named Young Alum of the Year appeared first on Business blog.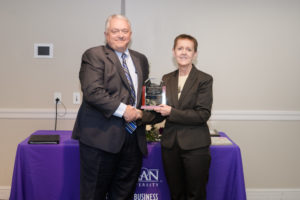 Wilson Named Alum of the Year
May 16, 2017
Tim is national industry partner for BKD National Construction & Real Estate Group.  He has more than 30 years of experience performing audit, accounting, tax and management consulting services in various industries.  He assists clients in the areas of business and strategic planning, operational and control reviews, mergers, acquisitions and consolidations, financial forecasts, feasibility studies, […]
The post Wilson Named Alum of the Year appeared first on Business blog.