When you join Truman's Master of Accountancy program, you're among a community of intellectuals who demand the highest standards. Truman's School of Business is one of only 180 universities worldwide accredited in both accounting and business by AACSB International-The Association to Advance Collegiate Schools of Business. Many students complete both their undergraduate and graduate accounting programs at Truman, while others enter the undergraduate program as transfer students or after receiving an undergraduate degree from university.
Excel on the CPA Exam
In combination with an undergraduate degree in accounting (such as Truman's Bachelor of Arts in accounting), our program satisfies the requirements to sit for the Certified Public Accountant (CPA) exam. You can earn your master of accountancy degree in one year, and upon graduation, you will be well-equipped for the CPA exam—our graduates have a reputation for consistently passing all parts of the exam on their first try.
Our accounting graduates learn to integrate analytical, research, communication, interpersonal and leadership skills with business and financial knowledge to become effective financial professionals. Truman is known for producing high-caliber accounting professionals equipped with the skill set to confidently step into diverse jobs in the field of accounting. As a result, our Master of Accountancy graduates are highly recruited for the best accounting jobs nationwide.

For More Information:
Dr. Alan Davis
Master of Accountancy, Program Director
abdavis@truman.edu
Phone: 660-785-5550
Follow the School of Business on: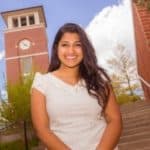 As a student, I was able to shadow Ernst & Young staff for a couple of days long before I thought about interning with them. I also had the opportunity to lead Beta Alpha Psi's Best Practices team into a Regional Competition where we presented on a student-run tax program called VITA, and I attended the Beta Gamma Sigma conference in Indianapolis where I got to meet members from all over the States and the world. There were some great speakers and activities to meet future accountants and business leaders.