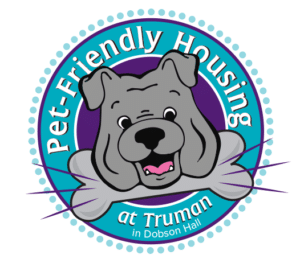 Pet-Friendly Housing is intended to provide you the option to have your pet live with you during your time living on campus.  The guidelines below have been developed to help you understand the expectations and responsibilities of having your pet live with you.
Please note, even if you're not a pet-owner, you still have the opportunity to express interest in living in the pet-friendly community.
In each single occupancy room, the pet owner may reside with one cat, or one dog, or one rabbit, or two small caged animals, detailed below.
Location: Dobson Hall, 1st floor
Approved Pets:
Up to two allowed per resident:
Gerbils
Guinea Pigs
Hamsters
One allowed per resident:
Cat—spayed or neutered
Dog—spayed or neutered; some restrictions apply
Rabbit
Dog Specifications
the animal is at least nine (9) months old
the animal must weigh less than 65 lbs.
the animal has been under the primary care of the resident or their family for at least three (3) months prior to moving the pet to campus
Prohibited breeds: Pit Bull, Rottweiler, German Shepard, and all Wolf Hybrids
Fish
Additionally, many fish are permitted to live in ANY on-campus residence so long as they live in a tank no larger than 10 gallons.  The pet registration process and associated pet fees are waived for students who wish to have fish for a pet.
For information about pet-owner expectations and animals not eligible for Pet-Friendly Housing, please review the Pet-Friendly Housing Resource Guide, below.
In preparation for your application submission, you will be asked to upload documents with the following information:
Current photo of the animal.
Veterinary records that verify the animal is at least 9 months old.
Veterinary records that demonstrate the pet has been in the primary care of the student and/or family for at least 3 months.
Verification of appropriate licensing in the City of Kirksville.
Veterinary record confirmation of spay or neuter (for cats and dogs).
Current veterinary record of vaccinations listing all required vaccinations and showing they are up-to-date (for cats and dogs).
As there is a limited number of spaces available in the Pet-Friendly community, approvals will be made on a first-come, first-served basis.  You must submit an application for Pet-Friendly Housing and receive approval prior to moving your pet into your room.  Students can apply for Pet-Friendly Housing when they complete their housing application in the Housing Portal.
Pet-Friendly Housing Policy
Pet-Friendly Housing Resource Guide
---
Please note the pet-friendly housing application is separate from requesting accommodations for Service and/or Emotional Support Animals.  For information regarding Service/ Emotional Support animals, please contact the Office of Student Access and Disability Services at 660-785-4478 and studentaccess@truman.edu.