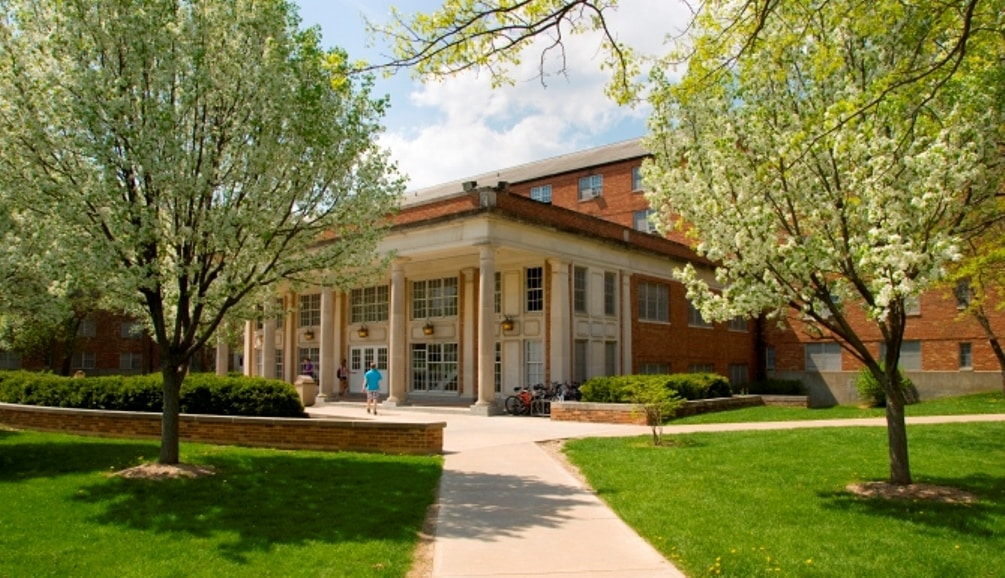 Overview

Centennial Hall is a five-floor, suite-style residence hall housing approximately 600 residents. Centennial offers great community space in the form of the biggest floor lounges on campus and a dining hall. Centennial was renovated in 2012-2014 updated with laundry facilities, kitchens, study areas, and computer stations. Centennial is known for its outstanding community atmosphere, Festival Centennial each fall, and its mascot, the banana. Centennial does not have air conditioning or carpeting in resident rooms.
Layout: Semi-suite style housing with double and triple rooms
Community Size: 522
Floors: 5
Centennial Hall is not currently open for room selection.
Room Photos
Double Suite Style
Double Deluxe Community Style*
*Room does not come with Microfridge unit. Microfridge must be rented separately.
Suite Style Bathroom
Community Lounges
Room Dimensions
| Room Type | Approximate Room Dimensions | Approximate Window Dimensions |
| --- | --- | --- |
| Single Suite | 13'11" x 11'8" | 6'3"W x 5'H |
| Double Suite | 13'11" x 11'8" | 6'3"W x 5'H |
| Deluxe Double Suite | | 6'3"W x 5'H |
| Triple Suite | 19'4" x 12' | 6'3"W x 5'H |
Please note the dimensions listed above are approximations based on a standard room in the building; due to room type and building layout, actual room dimensions may vary. We highly encourage you to measure your room after your arrival prior to purchasing items for your room (carpet, curtains, etc.).
Public Amenities

Wi-Fi, wired Internet, and cable access
Cafeteria
Community lounges
Study lounges
Computer stations
Game room
Kitchens on 3rd, 4th, and 5th floors
Two laundry facilities on 2nd floor
Building Maps
1st Floor
2nd Floor
3rd Floor
4th Floor
5th Floor
Mailing Address
Student Name
Centennial Hall Room #_____
1000 S. Franklin
Kirksville, MO 63501