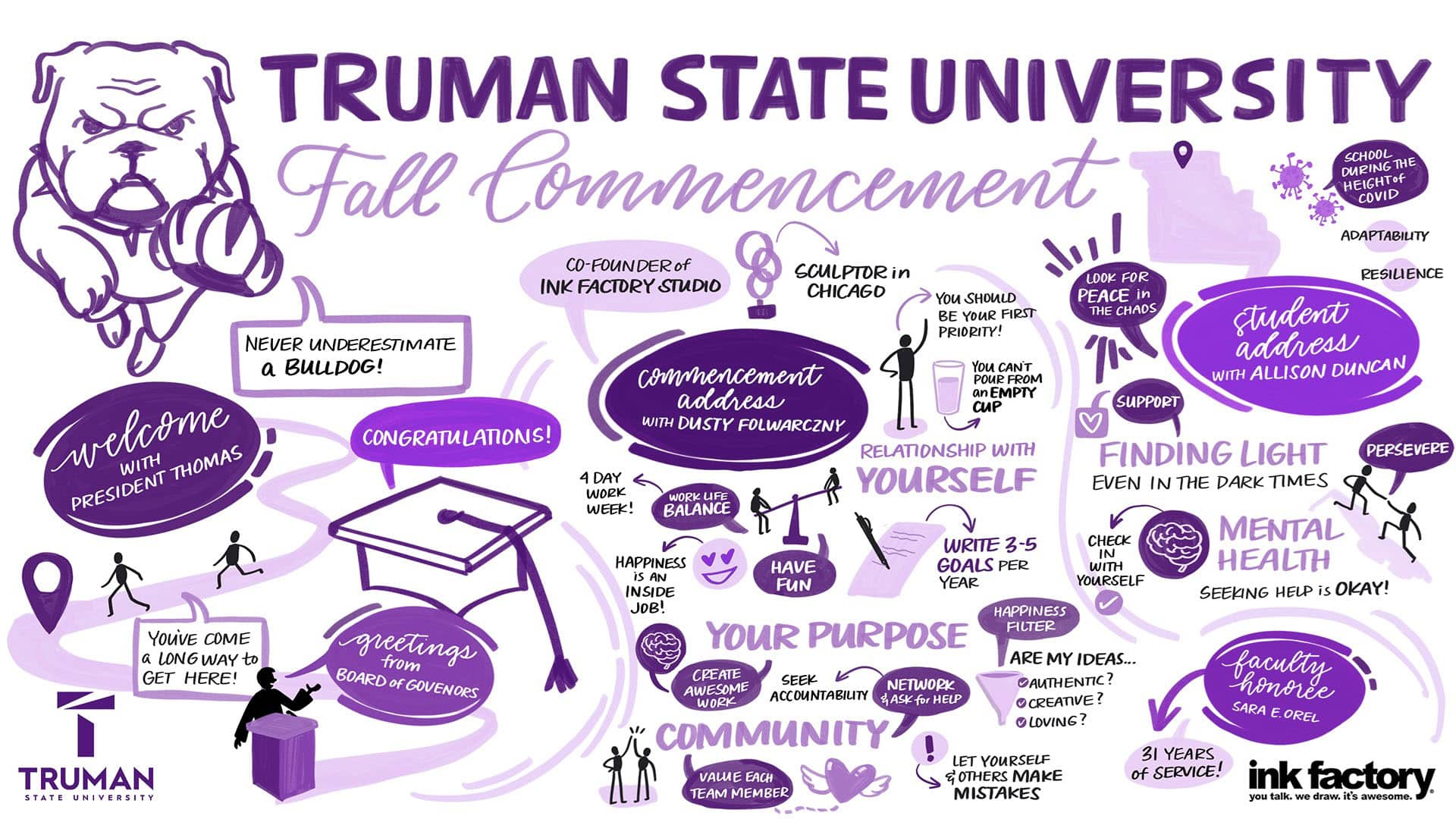 This website contains information about the Fall Commencement ceremonies. All candidates will be emailed instructions for the ceremony, arrival time, clearance process, and more once the details are determined.
If you have specific questions about Commencement, please contact the Registrar's Office, kwood@truman.edu, 660-785-4143. Graduate candidates should contact the Graduate Office, gradstudies@truman.edu, 660-785-4109.
Commencement Ceremony 
Date: Saturday, December 17, 2022
Location: Pershing Arena
Ceremony Time: 11 a.m. *
Degree candidates must be dressed in academic regalia to enter and participate in commencement. Degree candidates must bring their green completed reader card, and any appropriate honor medallions with them for the ceremony.
The number of guests will not be limited unless social distancing protocols are put into place. If the pandemic situation changes and social distancing becomes necessary, the single ceremony may be split into two (2) ceremonies with possible mask requirements and limited seating for guests. Degree candidates will be notified of their assigned ceremony.
More Commencement Information:
Bookstore (for caps, gowns, announcements, and graduate gifts)
NameCoach Pronunciation System

All degree candidates must voice-record their name prior to commencement to help ensure it is pronounced correctly at the commencement ceremony.

Livestream

The commencement ceremony will be viewable via livestream for those unable to attend in-person.

Truman State University Fall Commencement Facebook Event

Visit the Truman Fall Commencement Facebook Event page for updates and other information leading up to graduation day. The commencement ceremony will be live streamed on this link also.

Fall 2022 Commencement Instructions for:

Inclement Weather Information

The weather in northeast Missouri changes quickly during the winter months. The Fall ceremony will be held indoors, but in the event of inclement weather, an announcement will be posted on the Truman State University website.  The only effect this may have on the ceremonies would be in regard to parking or walking on campus.