Truman offers the Bachelor of Music, Composition emphasis and a Master of Arts in Music, with either a Composition or a Theory emphasis.
The Bachelor of Music includes:
An applied composition lesson each week. This is individual instruction with a composition faculty member.
A weekly meeting with all Truman composition majors and professors as well as Truman students interested in the art of music composition.
An opportunity to have original music recorded and performed each semester.
Training in electronic music, music production, concert production, more advanced music theory and counterpoint, orchestration.
Studies in the history of modern music.
Electives including songwriting, arranging, and jazz studies.
Production of a 50-minute recital of the work of the composition major.
Elective composition lessons are also available as a part of the Music Minor. This one-on-one instruction in composition is only available to students pursuing a Major or Minor in Music.
Advanced training in Composition forms the core of Master of Arts in Music, Composition emphasis and leads to composition thesis. The Theory emphasis explore the history and development of the scientific and practical underpinning of  the musical art and culminates in a thesis as well.
How to enter the Undergraduate Composition Program
Truman follows the traditional model of University-level composition study.  The composition emphasis within the Bachelor of Music involves the final two years of music study (upper division) and builds on prerequisite work that occurs in the first two years (lower division).  Students usually declare their interest in pursuing the program sometime during their first-year or sophomore year.
Students generally enter the program as a junior and will have:
completed Music Analysis IV and Aural Skills IV with a "B" or higher (or a successful test in lieu of the same),
completed four semesters of lower division study on an instrument or voice and passed the upper division jury,
successfully presented a portfolio of compositions to the composition faculty as an audition for the program (having the portfolio approved).
The most common way to prepare a portfolio is by taking a semester or more of elective lower-division composition, usually during the sophomore year, while completing the other course requirements.  The portfolio can also result from self study, private study, or coursework such as work completed in MUSI 336 – Introduction to Musical Composition.
Students interested in transferring from another institution and pursuing the B.M. should contact Dr. Gran (cgran@truman.edu) for application procedures.
Graduate Study
Students interested in pursuing graduate composition at Truman should forward a selection of scores and recordings to Dr. Gran (cgran@truman.edu). Students interested in graduate study in music theory should contact Dr. Marquez-Barrios (vmarquez@truman.edu) for application procedures.
Music Minor and Elective Study
The Music Minor includes several required courses and electives from the Theory and Composition section.  Students outside the music program can also take these courses as electives, but should be mindful that all 300- and 400-level courses, and most 200-level courses in the Music program have prerequisites.  Applied study in composition (private composition lessons) is only available to Music majors.
What You Need to Succeed
Your theory and composition courses provide a comprehensive curriculum designed to meet the needs of today's musicians. They include analysis and aural skills (4 semesters), private study in composition (graduate and undergraduate), counterpoint, form and analysis, modern composition practices and literature, contemporary analytical techniques, and electronic music. We can also arrange independent studies in specialized areas of theory, music technology and/or composition.
Like many of our students, you may find yourself presenting scholarly research papers at regional and national research conferences. Supporting courses in instrumental and vocal arranging, orchestration, and conducting complement your theory/composition curriculum — giving you a well-rounded foundation for your career in music.
Nationally-recognized educators, scholars, and composers teach all your courses. Add to that a comprehensive system of peer tutors for all students enrolled in analysis and aural skills classes and you get the one-on-one instruction at Truman you can't find at larger schools.
A Lively Community of Learners
Our Music Department provides a stimulating learning environment that encourages intellectual interaction between students and faculty. Gather and discuss your craft each week in composition studio, which provides an opportunity to learn from one another's work in a friendly, informal setting and from guest artists who provide opportunities to learn more about the profession.
Our spacious Music Computing Lab and Electronic Music Studio are equipped with up-to-date, advanced music and sound recording equipment.  Students can also participate in the Electronic Music Working Group and research contemporary methods of computer music.
Our students, faculty and ensembles regularly perform student compositions.  We also host the North Star Music Festival.  Guest artists have included Paul Chihara, Amy X Neuburg, Bruno Louchouarn, Pincushioned, and Nathaniel Bartlett.
Our Graduates Succeed
Our student composers have received national and regional composition awards, and their music has been performed at significant music events across the country. Several of our alumni have received prestigious commissions by organizations such as the Des Moines Symphony and the St. Louis Symphony Chorus, and others have administrative roles in the National Association of Composers USA, the Mid-America New Music Center and the Iowa Composers Forum. Many of our students pursue graduate study in composition at leading universities and conservatories throughout the nation and internationally.
Whatever your interest, there is a place for you here.
For more information about the theory/composition program, contact Dr. Charles Gran (cgran@truman.edu).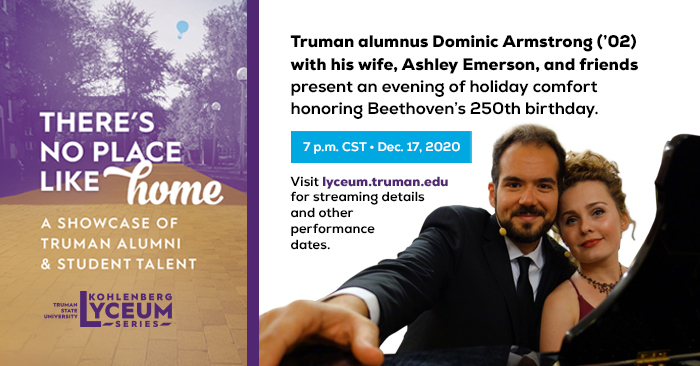 See Alumnus Dominic Armstrong in Christmas Performance
December 15, 2020
Truman and the Lyceum Committee are pleased to bring performances directly to your home this season. Please join us (virtually) on December 17th at 7:00 p.m. (CST) as alumnus Dominic Armstrong ('02) brings a joyous concert celebrating Beethoven's 250th birthday and the holiday season. Dominic will be joined by his wife, soprano Ashley Emerson, as […]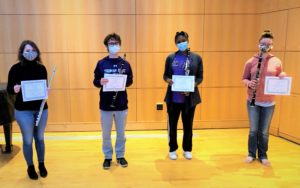 Woodwinds Students Receive Awards at 2020 MMTA Competition
November 18, 2020
The Missouri Music Teachers Association hosts an annual statewide competition, and this year Truman was well represented with numerous students receiving awards in the Collegiate Woodwind category.  These students worked above and beyond by learning three contrasting solos, paying the extra audition and accompanist fees, and making/uploading their audition videos.  It was an extremely beneficial learning […]