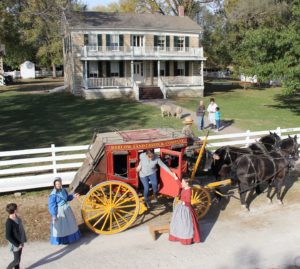 Mahaffie Stagecoach Stop and Farm is a living history museum on the historic Santa Fe, California and Oregon Trails.  We tell the stories of travel, farming and daily life on an 1860s Kansas farm through hands-on experiences and activities.  In addition to public programs that serve 12,000 school aged children each year along with thousands of guests in family and senior groups, Mahaffie maintains heritage breed livestock, heirloom vegetables and a small collection of historical objects.  Internships at Mahaffie are crafted to meet the needs of each participant.   Projects may include dressing in period clothing and interpreting history to the public, inventorying and accessioning items within the museum collection and doing research and crafting training materials for staff and volunteers.
This is a ten-week, 20-hour-a-week unpaid internship, coinciding with the University's ten-week summer session. Students can earn four credit hours. All students representing Truman in this internship program will enroll for academic credit through the History Department.
After being selected, the intern can work in a variety of areas at the Museum, including but not limited to:
Living history
Collection processing and organization
Exhibit research, design, and development
Event planning and support
Visitor Services
Assignment will be based on each intern's abilities and interests as well as the Museum's needs.
Applicants for this internship should possess strong written and verbal communication skills, excellent organizational skills, and basic computer skills, as well as an ability to work independently on multiple tasks. The successful applicants will be dependable, motivated, and resourceful.
To find out more about what the internship entails and how to apply, direct your enquiries to:
Dr. Jason McDonald
Baldwin Hall 226
(660) 785-7575
jasonmcd@truman.edu
MEET

MICAELA
  Mahaffie gave me real-world experience of museum work. I gained significant experience in collections, with plenty of time to experiment and explore with different methods. I found that I really enjoy the museum world, especially its variety.
---
History Internship Opportunities
History Major