Ritecare Communication Disorders Early Literacy Lab at Truman State University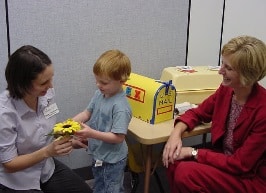 In 2003, Truman State University and the Scottish Rite agreed to co-found and support a program to prevent literacy problems in children who are at high risk. Services to children and their families are provided by students and faculty of the Truman State University communication disorders program.
The RiteCare Communication Disorders Early Literacy Lab (ELL) serves children at risk for literacy difficulties, primarily from K-grade 4.
The Scottish Rite provided funds for furnishings and materials, faculty training, and other program start-up expenses.
Appointments for evaluation and general inquiries should be directed to:
Connie Ikerd
Communications Disorders Department and clinic secretary
660-785-7414