Communication Disorders Facilities and Equipment
The clinical facilities for communication disorders students at Truman State University are attractive and well-designed for instruction. All therapy rooms have direct observation and recording capability. Truman's clinic houses an unsurpassed collection of traditional therapy materials, tests, and clinical computing resources available to students all day every day.
Our primary classroom includes state-of-the art instructional technology.
Speech and Hearing Clinic
The Speech and Hearing Clinic is equipped with telecommunication technology that allows for the delivery of remote speech and language services with other facilities across the state.
Early Literacy Lab
The Truman State University RiteCare Early Literacy Lab provides space for the remediation and prevention of literacy problems in children who are at risk.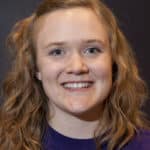 I love how easy it is to get to know people at Truman because of the size. Whenever I go to class or attend an event on campus, I always know at least a handful of people.