Private donations are extremely important to the success of Truman's intercollegiate sports and the academic and athletic achievement of our student-athletes at the NCAA Division II level. And if you have a special connection with a particular sport you would like to support, you're invited to become a member of one of our Athletic Giving Clubs and receive some extra benefits.
Each year, universities across the country rely more and more on private contributions from people like you to help keep pace with the escalating costs of higher education. Contributions to the Bulldog Fund help academically and athletically talented students realize the dream of earning a quality education while enjoying the thrill of competing at the NCAA Division II level.
Your tax-deductible gift to the Bulldog Fund allows us to:
support student-athletes through scholarships
attract and retain top-caliber students, coaches, and staff
provide facility improvements and much-needed equipment
Support the Fund
Ways to give to Truman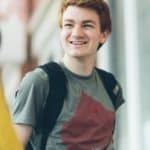 I chose Truman because of the affordability and its academic reputation. I looked at other schools, both public and private, and discovered that Truman is on par academically with so many universities but for a fraction of the cost. I knew that I wanted a stellar education but didn't want to graduate with thousands of dollars in debt, so Truman fit that mold perfectly.