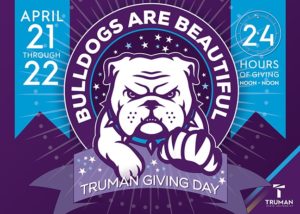 Truman Giving Day – April 21 -22
Bulldogs are Beautiful
April 21 is National Bulldogs are Beautiful Day. It's a great day to celebrate your favorite parts of Truman by making a donation through Truman Giving Day. Get excited about the impact donors have on campus! Spread the word so the whole Bulldog community can be a part of this historic day.
Special campaigns across campus are a great chance to make an even bigger impact.
• Brent Buckner & Diane Janick-Buckner Student Research Excellence Fund
• Piano Lab
• Truman Food Pantry
• School of Business
• Truman Athletics
Truman's Giving Day begins at noon on April 21.
Make a gift now
Ways to give
Support an Area of Interest
Amazing things are happening every day throughout our dynamic learning community on the Truman State University campus — but we couldn't do it alone.
Annual gifts help Truman compete for the brightest and best students, recruit and retain well-qualified faculty and staff, expand student research opportunities, provide new technology, and much more. Students' lives are transformed through gifts that support scholarships, and planned gifts let you maximize your assets to make a larger gift than you might have thought possible. In addition, if you (or your spouse) work for a company that offers a matching gift program, you can increase the impact of your gift.