Make a gift now
Ways to give
Support an Area of Interest
Amazing things are happening every day throughout our dynamic learning community on the Truman State University campus — but we couldn't do it alone. With your help, we prepare informed, engaged, open-minded and socially responsible citizens — the type of students who become leaders committed to making a positive impact on the world. And when you make a gift to Truman, you strengthen the University's national reputation for offering exceptionally high-quality academics at an affordable price.
Annual gifts help Truman compete for the brightest and best students, recruit and retain well-qualified faculty and staff, expand student research opportunities, provide new technology, and much more. Students' lives are transformed through gifts that support scholarships. And planned gifts let you maximize your assets to make a larger gift than you might have thought possible. In addition, if you (or your spouse) work for a company that offers a matching gift program, you can increase the impact of your gift.
Your support preserves Truman's legacy of excellence, opportunity, and affordability. Together, we are preparing a new generation for lives that matter.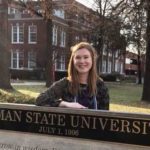 I am in the Communication Disorders graduate program at Truman. During my time here, I have been able to serve multiple individuals of a variety of ages in the Truman State University Speech and Hearing Clinic. I have also had the opportunity to study abroad with my department in Puerto Vallarta, Mexico, where we provided hearing and speech screenings to children in orphanages, a school and daycare for children with disabilities. After graduation I plan to return home to Lincoln, Nebraska, where I would like to work as a speech therapist in a school setting. As an out-of-state student, this scholarship really helps me out!