Truman State University's Mission Statement
The mission of Truman State University is to offer an exemplary undergraduate education to well-prepared students, grounded in the liberal arts and sciences, in the context of a public institution of higher education. To that end, the University offers affordable undergraduate studies in the traditional arts and sciences as well as selected pre-professional, professional, and master's level programs that grow naturally out of the philosophy, values, content, and desired outcomes of a liberal arts education.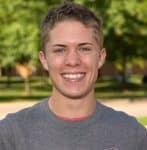 The care and concern that my professors have for their students is the best part of classes here. They come to class every day truly excited to teach their subject.