At Truman, there is much more to college life than attending classes, and with more than 240 student clubs and organizations, you can pursue the activities you enjoy, discover new passions, and find people who share your interests. There's something for everyone from intramural teams and recreational sports to professional organizations to singing and dancing groups.  You can even start something new through the Center for Student Involvement.
Here's a small sampling of some of student organizations and activities available to students:
Bulldog Student Investment Fund: Members work with the School of Business and learn about investments through hands-on experience trading stocks and bonds.
Community of College Entrepreneurs: This organization brings together entrepreneurial-minded students within Truman and connects them with outside resources such as other entrepreneurs, alumni, and various companies willing to help a student's startup.
Windfall: This student-edited literary and arts magazine provides students with extensive writing, editing, and publishing experiences.
Computer Gaming Association: This organization brings Truman gamers together and enriches the gaming community on campus.
Humans vs. Zombies: During this week-long, 24/7 game of tag, a group of human players attempts to survive a zombie outbreak.
Alpha Chi Sigma: Truman has a number of professional organizations, such as this one for students specializing in the field of chemistry.
American Medical Student Association: This professional organization helps pre-med students prepare for medical school.
Rugby: The Bullets Rugby (women) and the Bulls Rugby (men) are a couple of the club sports available at Truman.
Explore Clubs & Organizations
Photo Gallery
Photo highlights of some of the student activities on campus.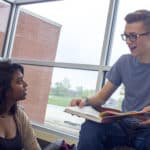 For me, Truman is made by the people I have met and the people who are found across the school. In one aspect, this is found in the organizations across campus: Greek letters painting the pavements, LARP-ing coloring the Quad, political activism sculpting the sidewalks…I feel as though everyone has a purpose — a niche that every individual can fit into.