Theory & Composition Studio
Looking for a career in music composition? As an undergraduate at Truman, you can choose a Composition emphasis within the Bachelor of Music, elective studies in the theory/composition area, or a music minor with composition coursework.
We also offer a Master of Arts in music with either a composition or a theory emphasis. The theory emphasis culminates in a written thesis, while the composition emphasis culminates in a thesis composition accompanied by an analytical description.
No matter which path you choose to pursue, our program is designed to be flexible to meet your needs and goals.
What You Need to Succeed
Your theory and composition courses provide a comprehensive curriculum designed to meet the needs of today's musicians. They include analysis and aural skills (4 semesters), private study in composition (graduate and undergraduate), counterpoint, form and analysis, 20th century compositional practices and literature, contemporary analytical techniques, and introduction to composition. We can also arrange independent studies in specialized areas of theory, music technology and/or composition.
Like many of our students, you may find yourself presenting scholarly research papers at regional and national research conferences. Supporting courses in instrumental and vocal arranging, orchestration, and conducting complement your theory/composition curriculum - giving you a well-rounded foundation for your career in music.
Nationally-recognized educators, scholars, and composers teach all your courses - never graduate students. Add to that a comprehensive system of peer tutors for all students enrolled in analysis and aural skills classes and you get the one-on-one instruction at Truman you can't find at larger schools.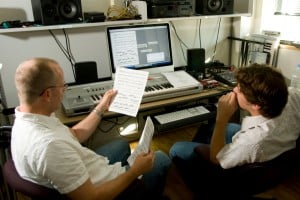 A Lively Community of Learners
Our Music Department provides a stimulating learning environment that encourages intellectual interaction between students and faculty. Gather and discuss your craft in composition master classes, which provide an opportunity to learn from one another's work in a friendly, informal setting.
Our spacious Music Computing Lab and Electronic Music Studio are equipped with up-to-date, advanced music and sound recording equipment.
Our students, faculty and ensembles regularly perform student compositions. Our students are members of The Mostly Live Composers Society, which is an official student chapter of the Society of Composers, Inc. - one of the largest composers organizations in the country. We also host a New Horizons Music Festival and co-sponsor an annual international composition competition.  Recent guest composers include:
Our Graduates Succeed
Our student composers have received national and regional composition awards, and their music has been performed at significant music events across the country. Several of our alumni have received prestigious commissions by organizations such as the Des Moines Symphony and the St. Louis Symphony Chorus, and others have administrative roles in the National Association of Composers USA, the Mid-America New Music Center and the Iowa Composers Forum. Many of our students pursue advanced graduate study in composition.
Whatever your interest, there's a place for you here.
For more information about the theory/composition program, contact Dr. Charles Gran (cgran@truman.edu).
News
14 September 2015 | 9:36 pm

The Kohlenberg Lyceum Series will begin the 2015-16 season with a performance by Truman's very own Department of Music at 7:30 p.m. Sept. 26 in Baldwin Auditorium. "At the Movies" is the theme of this fun and exciting program. Music has always played an important role in movies, and this concert will feature some of […]

9 September 2015 | 4:43 pm

Dr. Jesse Krebs, Associate Professor of Music, has been invited to perform a guest recital and give a clarinet master class at the Royal Irish Academy of Music in Dublin, Ireland on Tuesday, October 13, 2015.  He will be performing a program of American clarinet music, including the Clarinet Sonata by Daniel Gregory Mason, Theme […]
Calendar