Internships — an important part of the Truman experience — help you develop marketable skills, self confidence and a deeper awareness about about the type of career that suits you best. And the well-rounded education you receive at Truman ensures you are prepared for success in any career you choose to pursue.
From day one as a student at Truman, you can make things happen to kick-start your career. As you pursue the questions that intrigue you and dig deeply for more complete answers, you begin to understand more. And as you gain knowledge and experience through your classes and high-impact learning opportunities outside the classroom like internships, Truman helps you unlock your full potential.
Our Career Center offers resources to help you navigate potential career opportunities and graduate and professional schools. In addition, your professors will help you explore career options and provide grad school advising, and Truman alumni often serve as career contacts for students.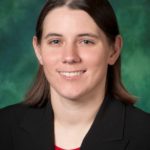 Since moving to another state, the Alumni Association has been an instant community who know something about where I am from and who I am as a result. This is the best kind of networking because it's genuine and I know I will have these connections for life.