Investing in Students Fund
The Investing in Students Fund makes a huge difference in the lives of our students by providing extra support at a time when they need it the most. The fund was established in January 2009 with a $30,000 pledge from former University President Darrell Krueger and his wife, Nancy, to assist Truman students with the most critical financial need.
Making a gift to this fund is a wonderful way to help smart and talented students who may not otherwise be able to attend Truman.
Support the Fund
Ways to give to Truman
---
Current or returning Truman students can find application information for Investing in Students grants in the Financial Aid section in TruView.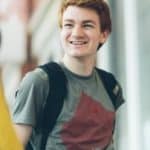 I chose Truman because of the affordability and its academic reputation. I looked at other schools, both public and private, and discovered that Truman is on par academically with so many universities but for a fraction of the cost. I knew that I wanted a stellar education but didn't want to graduate with thousands of dollars in debt, so Truman fit that mold perfectly.