Giving to Truman
value in the nation among public colleges & universities (Consumers Digest 2015)
Supporting the Pursuit
Make a gift now  Ways to give Giving Priorities
Amazing things are happening every day throughout our lively learning community on the Truman State University campus — but we couldn't do it alone. With your help, we prepare informed, engaged, open-minded and socially responsible citizens — the type of students who become leaders committed to making a positive impact on the world. And when you make a gift to Truman, you strengthen the University's national reputation for offering exceptionally high-quality academics at an affordable price.
Annual gifts help Truman compete for the brightest and best students, recruit and retain well-qualified faculty and staff, expand student research opportunities, provide new technology, and much more. Students' lives are transformed through gifts that support scholarships. And planned gifts let you maximize your assets to make a larger gift than you might have thought possible. In addition, if you (or your spouse) work for a company that offers a matching gift program, you can increase the impact of your gift.
Your support preserves Truman's legacy of excellence, opportunity, and affordability. Together, we are preparing a new generation for lives that matter.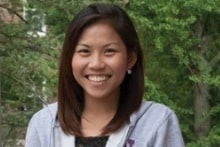 "The close-knit environment provided by Truman was one of the biggest reasons I chose this school! It allows me to focus on my studies with professors who truly care about my well-being, while at the same time participate in different activities with my friends. In addition to all the scholarships offered at Truman, the atmosphere here definitely played a big part in my decision."
– Esther C., Music & Psychology Major, Petaling Jaya, Malaysia