Translating Skills from Classroom to Career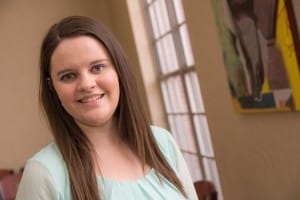 When Emma Merrigan ('14) came to Truman State University, she brought with her a love for foreign languages, and through her coursework, internship and study-abroad experiences, she turned that passion for languages into a career path.
A Spanish and English double major, Emma discovered she had a talent for Spanish when she was in high school in St. Joseph, Mo.  While attending Truman, she continued to pursue Spanish not only in her coursework but by joining various organizations centered on the language and culture including Sigma Delta Pi (Hispanic Honors Society), Spanish Cinema and Poetry Club, and Spanish Club.
During the summer before her senior year, Emma had the opportunity to complete an internship with Renderance Translation Services, a company owned by Truman alumna Erin Flannery ('11) that assists clients with translating English and Spanish indirectly in genres including industrial, medical, legal, commercial, and literary.
While working for Renderance, Emma completed remote freelance work and worked independently to seek out and secure new business for the company. She also helped develop promotional products and assisted in developing and creating content for the company's social media account.
Some of the projects she found most fulfilling during her internship included helping a start-up pet-sitting business create a Spanish website and creating a financial aid application for Hispanic Outreach.
"The most rewarding experience from the internship is seeing the translations being put to use by actual companies and individuals who need them to reach out to new customers," says Emma.
She attributed her success at her internship to her many unique experiences at Truman State University. One of these experiences included an independent studies course that Emma designed herself along with help from Carol Marshall, professor of Spanish. Through this course, Emma gained experience translating short stories, which directly helped her complete literary translations during her internship.
Emma also credits a summer study-abroad trip to Salamanca, Spain, as a formative experience. Having the opportunity to observe and interact with native speakers allowed her to reproduce their linguistic behavior which in turn enhanced her translation skills.
With a goal of working in higher education, Emma wants to incorporate her interest in literary translation as part of her research. She plans to combine her love of Spanish and literature by instructing graduate-level seminars but is happy to continue including language into her career in any avenue.
While she moves on to pursue her higher degree, Emma cites her internship as a positive learning experience in which she was able to test run a possible career with minimal risk. "Translation may not be my full-time career," says Emma, "but I certainly plan to make it a significant part of my academic and professional life."