Nursing Department
Nursing Simulation Center
Our Nursing Simulation Center (NSC) provides a safe caring environment where nursing majors can practice their skills and develop sound critical thinking and decision-making abilities as they progress through the nursing curriculum. The NSC is used in addition to clinical experiences in acute care and community health settings.
The 9-bed NSC is located on the third floor of the Health Sciences Building within the Department of Nursing with an additional eight-bed skills lab in the Pershing Building.
Hands-on Training
The NSC simulates the look and feel of a hospital with its beds, carts, and crib and is equipped with high-tech medical equipment including a MedDispense®, cardiac monitor, bedside computers, and Alaris® infusion pumps.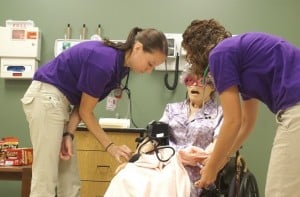 It is home to several Laerdal® mid-fidelity manikins, including adults, child, infant, and newborn. Medium-fidelity manikins have electronic heart, lung, and bowel sounds, which familiarize students with the experience of working with a real patient. The manikins can be controlled remotely by faculty to simulate a variety of clinical situations.
The two breakout rooms are equipped with cameras, microphones, and monitors to record simulation experiences allowing faculty to playback and debrief students to facilitate student reflection following the simulation.
In addition to the NSC lab, there are four computers in the computer lab, located within the Nursing Department. The computer lab is for nursing students only.