Music Department—Programs and Studios
Percussion Studio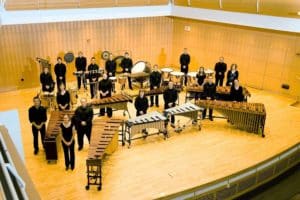 Truman's Percussion Program offers an outstanding environment for your professional development in performance, literature, and pedagogy. Among a very comprehensive inventory of percussion instruments and equipment, the practice studios and ensemble rehearsal spaces house approximately eight marimbas, three xylophones, three vibraphones, three sets of timpani, one electronic and three acoustic drum kits, as well as a full complement of new Latin, Afro-Cuban, and African hand drumming instruments.
Undergraduate and graduate studies in percussion are equally comprehensive and include applied study and experience in solo and ensemble performance, as well as academic research in percussion pedagogy, history, and literature. You have opportunities to join groups such as the Percussion Ensemble, Truman Percussion Society, and Truman Steel or march in the Indoor Marching Percussion or the Drumline of the Statesmen Marching Band.
A steady stream of renowned guest artists brings a world of expertise right to your doorstep.
For more information about the percussion studio at Truman, contact Dr. Michael Bump.