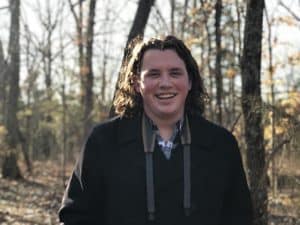 Majors: History and Linguistics
Class of 2022
Hometown: Bolivar, Mo.
---
Why did you choose Truman:
I chose Truman for a number of reasons. I knew that I wanted to go somewhere that would be academically challenging and would push me to be the best that I can be. Truman was also really generous with the scholarships that they afforded me! I'm also from a small town, and I didn't want to go to a university in a big city with hundreds of people in my classes. Truman was the perfect mix of a small-town feel and the strong academics of a great university.
Why did you choose history and linguistics as your majors?
I have always had a great love for history. I think that by studying the past, we can understand the way that we are today, and we can better prepare ourselves for the future. But also, I just love learning about the past and other cultures and peoples. I think that studying history was the natural extension of my love for different cultures, histories, and languages. Given that I am also a linguistics major, it's been really cool to be able to see how the study of language and the study of history have been able to coincide.
The things I like about my academic department are….
The professors in the History Department are absolutely excellent professors! They really care about who am I and what my professional goals are. Whenever I visit one of my professors in their office, they ask how I am doing, and how my internship applications and grad school searches are going. They actually know who I am, and I don't feel like I'm just another nameless student whenever I talk with my professors.
What student organizations and clubs have you been involved with?
I have been heavily involved with Campus Christian Fellowship, the Historical Society, and Phi Alpha Theta (history honor society). Within Campus Christian Fellowship, I am a small group leader and a worship leader, and I was just recently elected the president of Phi Alpha Theta!
Is there anything you've been a part of at Truman that you didn't know about (or explore) until you arrived here?
I came to Truman because I knew about the exemplary history program that they had here. But I didn't know about the great linguistics program that is also housed here! My freshman year, I had some extra time available, and so I took an Introduction to Linguistics course, and I fell in love with it! It's been really cool to be both a part of the history program and the linguistics program, because I've been able to use my dual experience to study how language and history intersect, which has given me an interesting perspective in all my classes.
What is your typical day like as a Truman student?
I try to schedule as many of my classes as I can to be morning classes so that I can get a strong start to my mornings and be done by the early afternoon. Then, I try to work on my classwork and assignments until around dinner time so I can hang out with friends later in the evening. While every once and awhile I have to pull an extra-long day to work on a paper or some other assignment, for the most part, I try to work hard throughout the day so I can have evenings free.
What Truman classes have been your favorites and why?
My favorite class that I've taken has been my JINS class that I took with Professor Shirley McKamie. It was called "Music and Religious Thought." As someone who is both a musician and heavily interested in theology and religious studies, the class did a really great job of teaching me about other religions and the role that music has played in those religions. It was a great class that really expanded how I view the world and the different religions of the world.
What are your plans after Truman?
After Truman, I plan on attending grad school for a Ph.D. in history, and hopefully specializing in ancient history. I have a great passion for the ancient Near East, and I would like to eventually teach at the university level.
What are the biggest takeaaways that will follow you beyond Truman?
Truman has taught me the value of discipline and study more than I thought that it would, and I was expecting it to teach me quite a bit! The History Department's focus on research and historiography from early on in the program has helped me hone my research and writing skills, which I know will help me in the future. More than that, Truman has taught me the value of working hard and staying determined for the goals that lie ahead.
Do you have any advice for new students?
I always advise new students to treat college like a job; instead of sleeping in every day and not starting classes until noon, if you take morning classes instead and work hard until dinner time, you can manage your workload better and still spend evenings with friends.