What can you do with an English or Creative Writing Major?
Our graduates are taking what they learn at Truman and are out in the world making a difference pursuing careers in many fields. Here are some examples of recent employment for our English and creative writing majors.
Account Executive, FUSE Advertising Agency; St. Louis, MO
Actress, Stage Left, Chicago, IL
Assistant to Artistic Director, Immediacy Theatre Project;
Belleville, IL
Assistant Director of Washington Area Women's Foundation;
Washington DC
Assistant Publicist, Sourcebooks; Inc., Naperville, IL
Attorney, Armstrong Teasdale; St. Louis, MO
Copywriter, Salva O'Renick; Kansas City, MO
Deputy Democratic Director, Board of Election Commission; St. Louis, MO
Disability Claims Case Manager, Liberty Mutual Group; Kansas City, MO
Editorial Assistant in Health Professions; Elsevier, St. Louis, MO
Elementary School Teacher, Teach for America; Oahu, HI
English Teacher in Czech Republic
English Teacher in Spain
FDIC Bank Examiner; Kansas City, MO
High School Teacher, Columbia (MO) Independent School
High School Teacher; Boonville, MO
Instructor, Moberly (MO) Area Community College
Intern, AmeriCorps; Hawley, MA
Iowa Attorney General; Des Moines, IA
Librarian; Liberty, MO
Missouri State Archives; Jefferson City, MO
Peace Corps; Washington, DC
Portfolio Consultant, Northwestern Mutual; St. Louis, MO
Production Associate, ABC Touchstone; Los Angeles, CA
Professor of English, Lindenwood University; St. Charles, MO
Staff Writer, Mexico (MO) Ledger
Theatrical Designer; Bear Creek Resort, IN
Truman State University Soccer Coach; Kirksville, MO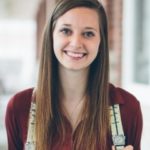 My favorite aspect of Truman is the sense of community. I love knowing so many people around campus and having so many great opportunities that I might not have at a larger university.