Business Administration Major: Concentration in Marketing
As a business administration major, you can select marketing as a concentration (other areas of concentration include finance, international business, and management).
A Place for Creative & Strategic Thinkers

No matter what its size, a firm must constantly track consumers, monitor the economic and sales environment, and keep an eye on the competition. If you're curious about what makes people tick and want more in-depth exposure to the dynamic process of marketing that blends creativity, strategizing, analysis, and communication, consider choosing marketing as an area of concentration in our business administration program. Learn how to help a business acquire and retain customers for products and services. Then apply your knowledge and gain experience through internships and study abroad.
Our Graduates Succeed

Our graduates score in the top five percent on the Major Field Achievement Test in Business (a nationally-based test that measures business knowledge) giving them an advantage in a competitive job market. A concentration in marketing provides a solid foundation for further education after graduation or successful employment in a variety of areas:
Advertising account representative
Brand/product manager
Business publication designer
Customer relations specialist
Logistics specialist
Marketing research analyst
Media analyst/buyer
Political consultant
Professional recruiter
Purchasing agent
Retail buyer
Retail manager
Sales promotion director
Sales representative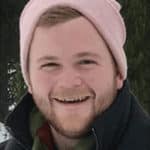 The greatest benefit of my Truman education was the access to professors. Not only did they mentor me during my time as a Truman student, but they continued to do so as I applied for graduate studies.