Business Administration Major: Concentration in International Business
As a business administration major pursuing a Bachelor of Arts degree, you can select international business as a concentration (other areas of concentration include finance, management, and marketing).
Pursue Business Skills with a Global Focus

When you're working in today's global economy, you need to know how to navigate the intricacies of international business. At Truman, you learn how to serve customers in international markets; how to take a local business global; and how to make decisions in a business environment with multiple exchange rates, capital markets, and tax laws. Gain a better understanding of global forces such as business transactions between and within countries, the laws and logistics of international trade, and manage foreign operations.
Explore International Settings Up Close

Truman has connections with a number of international business schools. Learn a foreign language for a competitive advantage when building relationships with international clients and partners. Then test your skills through an international internship or study abroad.
Our Graduates Succeed

Our graduates score in the top five percent on the Major Field Achievement Test in Business (a nationally-based test that measures business knowledge) giving them an advantage in a competitive job market.  You will be well-prepared to continue your education at a graduate or professional school or you can step directly into the workforce. Some career options include:
internationally organizations
local business firms involved in international trade
headquarters or subsidiaries of multinational corporations
banks and other international financial institutions
various governmental organizations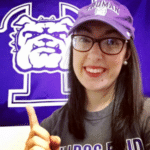 Professors and staff go out of their way to help students. When applying for internships, the Career Center staff regularly reviewed, and provided feedback on, applications before I submitted them—this helped ensure I had the best chance of getting the opportunities I wanted.