So you may be asking, how can I get involved with other students in my major, as well as other students on campus? The Health and Exercise Sciences Program encourages involvement with organizations that contribute to the development of our majors:
Phi Epsilon Kappa
This Exercise Science Honor Fraternity is dedicated to service and networking within the Health and Exercise Science community.
Student Public Health Association
The Student Public Health Association (SPHA) increases the professional competencies of Health Science students at Truman State University through service and educational activities on and off campus.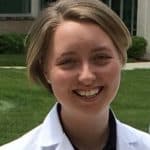 Majoring in Exercise Science at Truman was the best decision I could have made in preparing for my graduate studies and career in physical therapy.  The curriculum established a solid foundation in kinesiology, nutrition, anatomy and physiology to prepare me for rigorous work in graduate school; the compassionate and knowledgeable faculty rounded out the optimal learning experience.