Congratulations on your acceptance to Truman State University!
You've worked hard, and you have what it takes to succeed here where you can accomplish so much more. As a Truman student, you're joining a community of dynamic learners who share in your intellectual curiosity. You will live on an active campus full of others like you who like to keep busy, have fun, and explore new things — the life of a Typical Truman Student, or "TTS" as you'll hear students call themselves.
Now that you have been admitted to Truman State University, what's next? Whether you're a first-year freshman or a transfer student, here are the resources you need to make your transition into the university.
Are you an international student? Visit our Center for International Students website to learn more about your next steps.
Next Steps

QUESTIONS?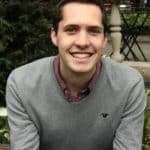 Truman allowed me to study music, manage the student newspaper, run marketing for various organizations, serve on the executive board for a Greek organization, and take courses in music and history in Salzburg, Austria, among other things. A lot of really incredible professors opened their doors to me, even when I wasn't in their department because they saw I had an interest and wanted to learn. Having such a varied background not only helped me to learn what I was and was not interested in, but also helped me land a number of different positions.