Southern Chile's Archipelago of Chiloé

Many majors in the Society & Environment Department at Truman State University participate in study abroad experiences. The most recent study abroad course developed by department faculty is a four-week trip to Chile led by Dr. Anton Daughters, Assistant Professor of Anthropology.
Offered during the December-January winter break every other year, "Globalization and Culture Change" (CHI 401: Chile Study Abroad) gives students on-site immersion (through home stays and participant observation fieldwork) into the culture of southern Chile's Archipelago of Chiloé. It also includes stays in Santiago and Puerto Varas. The course launched in December 2014 (see pictures below) and will be offered again during the 2016-2017 winter break.
For questions about the course, contact Dr. Daughters. For information on other study abroad opportunities at Truman, click here.
Photos from Chile Study Abroad (December-January 2014-2015):
Living and Working in South Africa (Study Abroad 2013)
Prior Study Abroad programs run by faculty in the Department of Society & Environment have included a bi-annual trip to South Africa led by Dr. Elaine McDuff. In the summer of 2013, fifteen Truman students, including seven sociology/anthropology majors, were immersed in the living history of South Africa by working twenty hours a week in non-profit organizations in Cape Town. These non-profits addressed issues of human rights, social justice and equality, especially with regard to women, children, workers, immigrants, and the environment. The other days were spent visiting museums and historical and scenic sites around Cape Town.
As part of the program, students were required to post reflections about their experiences on a course blog, and complete a research paper which they present in the spring at the Student Research Conference.
Highlights from Student Blog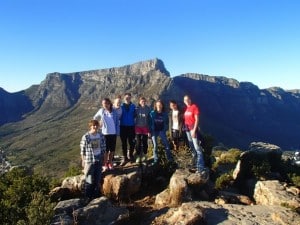 Sociology and English double major, Conner Maguire worked as a teacher's assistant at Thandokhulu High School. Here is a highlight from Conner's blog post:
"South Africa seems to be full of some of the most horrible problems and the most wonderful people. In talking with the learners and marking many of their papers, I have been able to hear and read their stories and get to know where they come from. Just earlier this week I was reading a learner's paper, and this is what she had to say about her life in Khayelitshia: 'As I said living in Khayelitshia is not good. Life is not perfect everything that is bad is there. Every human trafficking is there, every drugs is there, every abusing people are there, criminals are there, gang groups are there. I find that life is too hard for me there…The life we live there is bad in such a way that the teenagers are become the destroyers of their freedom and future.'"
This is one excerpt from one paper, and sadly, these kinds of stories are the norm, not the exception.
Almost all of the teachers at Thandokhulu are also Amaxhosa and live in the townships. As they have told me, ' Yes it is sad, but these are simply the lives we live. Everyone has nothing. We can only do what little we can to help those around us who have even less.'
A teacher's salary in South Africa is fairly small. However, one of the teachers, Cana, was telling me about how, when she was teaching in a primary school, the teachers and administrators would identify learners that were in the most need of assistance, and the teachers would essentially adopt them. They would pay for their school fees, transportation to and from school, and help provide lunch and books. Teachers would even collect used clothes from their family and bring them in for the learners.
They would pour their own small amount of resources back into their learners, because they knew that the learners needed it more than they did.
Conner's blog sums up his Cape experience in these words: "South Africa has extreme, concentrated poverty that feeds into problems of drug addiction, violence, sexual exploitation, and gangsterism, all on a scale that we could not possibly imagine in the United States, but it is also full of the most amazing people, people who are always willing to give all they have and more to help someone else. It's not charity; it's a part of the culture. It's Ubuntu, human kindness, and it's alive and well in South Africa."
All fifteen students shared similar experiences such as Sociology Major Rikki Watts who wrote about drinking tea with her boss, Phindi, at the Economic Justice Network (EJN), an NGO devoted to working for justice on issues of tax equality, food security, climate change, and trade fairness. Rikki states, "Going for a tea break to Phindi's office is probably the best thing I've done here, and not just because rooibos has high levels of antioxidants, but Phindi invited me into her life as a friend. "
Sociology majors Ashley Repka and Andie Davis worked in Khayelitsha, a two-hour ride every morning past beautiful beaches to a large, impoverished township. They worked at the Treatment Action Campaign (TAC), an HIV-Aids Advocacy Organization with branches throughout South Africa.
Ashley shared the following about her experience: "Lwazi, from TAC, explained to Andie and I one day that he loved the community in Khayelitsha, in spite of its poverty. He asked us how well we knew our neighbors — I wave at mine sometimes. He explained that he knew that if he ever needed anything, he could go to a neighbor and they would reach in their pocket and give him what they could.
I suppose this is the 'Ubuntu' we heard so much about, and it is an idea that will stick with me long after the trip. I have learned that each of us has beautiful things to share from our own life — many times in our background — and that each of us has knowledge that can benefit others whether it is from a book or experience; the important part seems to be that we share them."
Andie had the following to say about TAC: "Being given the opportunity to aid in the condom distribution to gather the personal stories with people living in the Khayelitsha was an incredibly powerful experience. It really helped bring some of the concepts that I've been learning about in abstract into reality. They were given a face and a voice through the individuals living in the township, and I was able to see firsthand the important work that the Treatment Action Campaign is doing."
Visit Trumanincapetown2013.blogspot.com to read more stories and to learn about the Cape Town Study Abroad Program.