Truman Media Network
Truman student media come together in a convergence medium through the Truman Media Network to determine how to best tell stories – especially "big" stories.  Because consumers access information from various media (TV, radio, print, Internet), TMN is a "real world" learning lab that mirrors the industry movement towards telling stories on multiple media platforms.  KTRM, TMN-TV, and the Index have come together under the TMN umbrella to report Missouri elections and the Iowa caucuses.
The Index Newspaper
The Index has received both national and state awards recognizing the 102-year-old newspaper for its continued excellence. In 2011, Missouri College Media Association named the Index, Truman State University's student-produced newspaper, the best college newspaper in the state, and the College Media Advisers awarded the Index first place at the Apple Awards five times since 2003.
Detours is a Midwest travel magazine produced by students featuring travel tips and little-known destinations in Missouri, Iowa and Illinois. Both the bi-annual digital magazine and the Detours website offer engaging multimedia content feature restaurants, sightseeing attractions and distinctive lodging opportunities. The magazine has won numerous awards, and the College Media Advisers named Detours the 4th "Best of Show" Feature Magazine in the country for its annual Apple Awards.
KTRM Radio
KTRM is the University's student-run campus radio station, on the air in HD 24 hours a day, serving Truman community and Adair county with a Progressive Rock format and specialty shows in the evening, including live broadcasts of campus sporting events and world & campus news. Since 2002, KTRM has won numerous media awards from the Missouri Broadcast Educator's Association each year.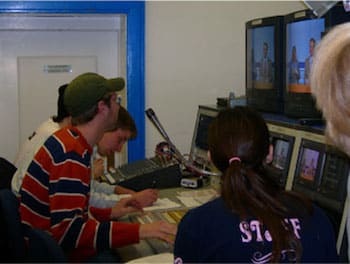 TMN-TV
TMN-TV broadcasts live newscasts every Tuesday at 5:30 p.m. during the semester.  Truman students can watch on cable channel 36, with replays on the local cable system. The staff uses Avid digital editing equipment and digital cameras.  TMN-TV producers, reporters, editors, directors and studio crew give viewers the latest news – from Truman to the national level.