Field Experience
The Master of Arts in Education (MAE) Program at Truman State University provides a variety of opportunities to participate in classroom activities working with students consistently throughout the program, starting as early as one's freshman year with the Exploratory Field Experiences Seminar. Additional opportunities to work with students in classroom and other learning environments are embedded throughout the education curricula with a culminating teaching internship experience.
Internships
The MAE program also offers several unique internship opportunities through cooperating partnerships with the Department of Defense Education (United States military bases all over the world), Park Hill School District (Kansas City), Schuyler Co. R-I School District (near Kirksville), Clayton School District (St. Louis), and the Parkway School District (St. Louis).
VIDEO: Liberal Arts —Jazz for the Mind
Jacob England and Lauren Chapman riff on the surprising way they applied liberal arts principles during their teaching internships.
For additional information contact:
Director of Field Experiences
Jeanne Harding
660-785-4399
jharding@truman.edu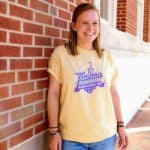 I initially chose to come to Truman because I was impressed with the numbers that compared well with other universities: average test scores, retention rates, job placements, rankings, degree programs, etc. I knew these statistics would provide me with a solid foundation of a well-rounded college education, and I was confident in my college choice. After arriving at Truman my freshman year, though, I realized that Truman has so much more to offer beyond our impressive statistics. We have a student body filled with individuals who inspire and motivate their peers, and a campus community that fosters life-long learning.