Field Experience & Internship Opportunities
of Truman classes have fewer than 40 students
Master of Arts in Education: Field Experience & Internship Opportunities
Field Experience
The Master of Arts in Education (MAE) Program at Truman State University provides a variety of opportunities to participate in classroom activities working with students consistently throughout the program, starting as early as one's freshman year with the Exploratory Field Experiences Seminar. Additional opportunities to work with students in classroom and other learning environments are embedded throughout the education curricula with a culminating teaching internship experience.
Internships
The MAE program also offers several unique internship opportunities through cooperating partnerships with the Department of Defense Education (United States military bases all over the world), Park Hill School District (Kansas City), Schuyler Co. R-I School District (near Kirksville), Clayton School District (St. Louis), and the Parkway School District (St. Louis).
For additional information contact:
Director of Field Experiences
Jeanne Harding
660-785-4399
jharding@truman.edu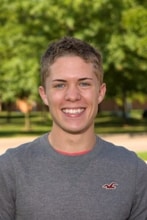 "The care and concern that my professors have for their students is the best part of classes here. They come to class every day truly excited to teach their subject."
– Christopher B., Music (Liberal Arts) & English Major