Field Experience
The Master of Arts in Education (MAE) Program at Truman State University provides a variety of opportunities to participate in classroom activities working with students consistently throughout the program, starting as early as one's freshman year with the Exploratory Field Experiences Seminar. Additional opportunities to work with students in classroom and other learning environments are embedded throughout the education curricula with a culminating teaching internship experience.
Internships
The MAE program also offers several unique internship opportunities through cooperating partnerships with the Department of Defense Education (United States military bases all over the world), Park Hill School District (Kansas City), Schuyler Co. R-I School District (near Kirksville), Clayton School District (St. Louis), and the Parkway School District (St. Louis).
VIDEO: Liberal Arts —Jazz for the Mind
Jacob England and Lauren Chapman riff on the surprising way they applied liberal arts principles during their teaching internships.
For additional information contact:
Director of Field Experiences
Jeanne Harding
660-785-4399
jharding@truman.edu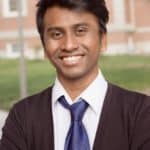 The hands-on approach to teaching is one of the best aspects in the Education Department at Truman. Thanks to my Education classes, I got the opportunity to know the rewarding feeling of teaching and working with students.