Homecoming
Since 1939, Homecoming has been a school tradition each fall except for 1942-1945 due to World War II.
Save the date for Homecoming 2015, October 9-11!
Homecoming Activities for Alumni and Friends
During Homecoming, our lively and engaged graduates come back to campus to reconnect with classmates, former roommates, professors, and friends. And while they're on campus attending Homecoming events throughout the weekend, they make new connections and create even more memories.

Homecoming festivities include: Bulldog Forever Homecoming Tailgate, Homecoming Parade, Pep Rally, 5K Run/Walk, Bulldog sporting events, Golden Alumni Class Reunion, Golden Alumni 50-Year Anniversary Diploma Ceremony, Athletic Hall of Fame Induction Ceremony, department and organization receptions and much more.
Whether it's been years since you have been on campus or you just graduated, we look forward to having you back at Truman to celebrate the legacy you helped build. All alumni, families, and friends are invited to the Homecoming celebration.
Each year, when Truman State University celebrates the Homecoming tradition, the campus is buzzing with activities for visiting alumni. The Homecoming celebration occurs annually in October.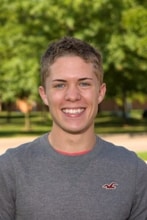 "The care and concern that my professors have for their students is the best part of classes here. They come to class every day truly excited to teach their subject."
– Christopher B., Music (Liberal Arts) & English Major