Friday, Oct. 18, 2019
12-4 p.m.*
Student Union Building, Alumni Room

*Complimentary lunch noon-12:50 p.m. in Activities Room on upper level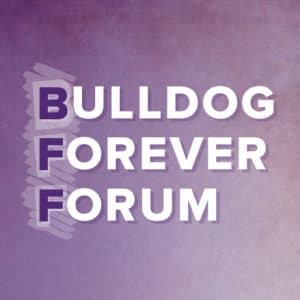 The Bulldog Forever Forum (BFF), formerly known as the Alumni Leaders Conference is an annual meeting where prospective Truman volunteers, chapter and club volunteers and board members come together to share ideas, learn new techniques and network with other Bulldogs. Each year, we spend time brainstorming successful ways to engage alumni nationwide with each other as well as the Truman community. We learn new ways of communicating with each other, what makes successful alumni events, as well as getting an inside look at what's happening on campus.
This year the Bulldog Forever Forum is Friday afternoon of Homecoming weekend and includes sessions on leadership, events, and campus information and resources. Sponsored by the Truman Alumni Association, the conference is FREE of charge and attendees who pre-register will receive a special alumni gift for participating.
Interested in attending this year's conference? It is Friday afternoon, October 18, 2019, 12-4 p.m. and includes lunch and snacks. Attendees receive a certificate of participation in volunteer leadership and event planning. Email bulldogforever@truman.edu for more information.
There are a limited number of travel stipends for Truman alumni chapter representatives and prospective volunteers. For more information, contact your local chapter president.