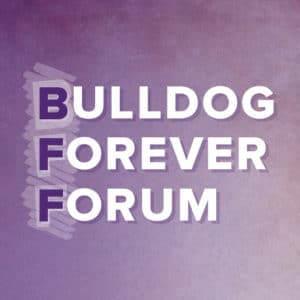 The Bulldog Forever Forum (BFF) is an annual meeting where Truman volunteers come together to share ideas, learn new techniques and network with other Bulldogs. Each year, we brainstorm successful ways to engage alumni nationwide with each other as well as the Truman community. We learn new ways of communicating with each other and get an inside look at what's happening on campus.
The 2022 Bulldog Forever Forum will train and equip existing volunteers as well as motivate and inspire potential volunteers. Whether you've been involved in an Alumni Chapter or Club for years or you've never attended a Truman alumni event before, this event is open to all alumni and friends. The Bulldog Forever Forum will consist of live virtual events, updates from campus as well as materials designed to support our volunteers. Check back often for new content and additional events.
Register to attend HERE.
Content Drop: