A Celebration of Student Research, Scholarly Activity and Creative Achievement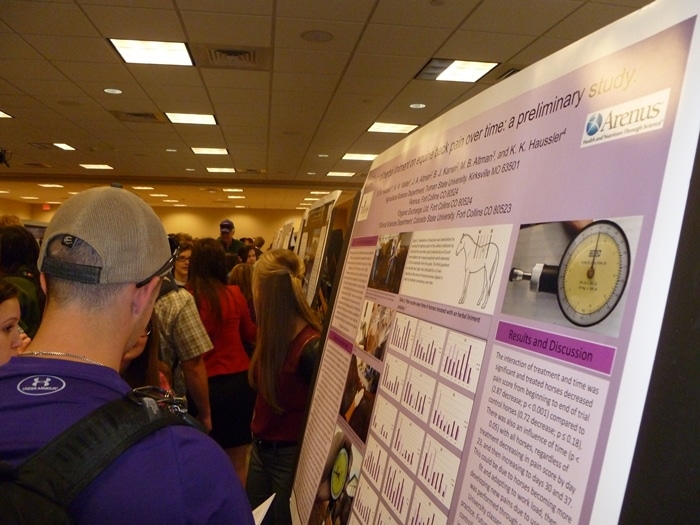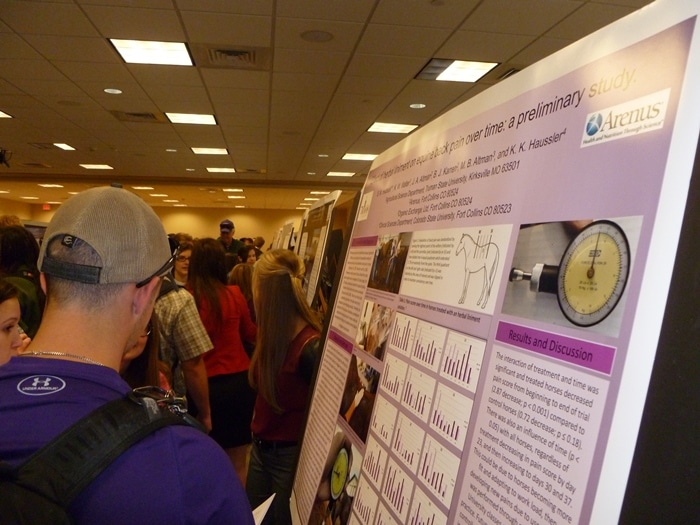 Whether it's in the lab, in the studio or other opportunities outside the classroom, students at Truman State University like to dig deep and explore subjects that interest them through high-impact learning experiences such as research. At Truman, where one out of five students participates in research in any given year, the University's annual Student Research Conference on April 14, 2015, provided the perfect opportunity for students to share their work with the campus community.
For the 2015 Student Research Conference, more than 400 students from across the University's various disciplines participated in presentations that ranged from oral paper and performance sessions, to studio art displays, to poster sessions. From science experiments to photography portfolios, the day-long conference showcased scholarly work by students at all academic levels from freshman to graduate students.
Jefferson Hartig, a pre-med student from St. Louis who presented a poster highlighting his research on "Attitudes and Behaviors of College Students Regarding Caffeinated-Alcoholic Beverages," found that his project allowed him to put the information he learned in his courses into action. It also brought to life the knowledge he has gained from his professors over the years. "One of the most important things I learned from this project was how invested our professors are in teaching their students," says Hartig, who worked alongside Alicia Wodika, his faculty mentor and assistant professor, Health and Exercise Sciences. "She was always there to explain something I didn't understand, and she helped me to refine my abilities as a researcher."
Hartig, who plans to pursue a career as a pediatric physician, notes how important it is for people to know what they are consuming before they consume it.  "There are so many dangers associated with caffeinated-alcoholic beverages, and I fear that a good majority of Americans don't know that," says Hartig. He hopes the research experience he is gaining at Truman will lead to future research projects that could help save lives.
Participating students were mentored by dedicated teacher-scholars from all across campus who have helped Truman achieve a reputation as a national leader in experiential learning activities. Amber Johnson, professor of anthropology, finds it extremely rewarding to watch students grow in confidence as they enhance their skills while working on research projects. "Working with students on research projects is also a huge intellectual challenge ― for me as well as for them," says Johnson. One of her biggest challenges is helping students figure out how to communicate clearly about their own ideas. "Once they can be very specific about what they want to learn, they are able to develop strategies for collecting data," says Johnson. "Research design is hard ― the analysis is easy and a lot of fun."
The guest speaker for the conference brought a familiar face back to campus as Dr. Jeffrey Osborn presented the Plenary Address, "Pollen: More Than Something to Sneeze At." Osborn, who currently serves as dean of the School of Science and professor of biology at the College of New Jersey, has built an illustrious career working with undergraduate students in his research. Prior to his current position, he served as professor and chair of biology, as well as director of the Science, Technology, Engineering, and Mathematics Talent Expansion Program at Truman.
Learn more about research opportunities at Truman State University
---
Photos from the 2015 Student Research Conference