Combining a Practical Side with a Creative Side
Having a varied background led to some surprising connections that ultimately helped John O'Brien expand his career options after college.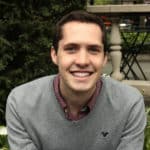 During the summer of 2010, John O'Brien was getting ready to attend Truman State University in the fall where he had been thinking about pursuing a degree in biology. But as a naturally curious person with many interests, he had already frequently changed his mind when it came to potential careers. As his summer went along, he spent many nights at the Muny, an outdoor musical theater in St. Louis, where he became fascinated with how a theatre production all came together. That experience, combined with the wide opportunities students have to personalize their education at Truman, opened the door to a whole new world of career options he had not even considered.
Along with some friends, O'Brien would attend the midnight dress rehearsals at the Muny to catch a show before it officially opened. "We would grab snacks and sodas and settle into the box seats like we owned the place," says O'Brien, who assumed the practice runs at the theater were open to the public. Later on, during a job interview at the Muny, he learned that the practices were in fact closed. "After I learned this during my interview, I immediately panicked and said 'Oh…then forget I said that!' and the person interviewing me laughed and said 'No, I'm writing that down. That is my favorite part of this interview,'" says O'Brien, who got the job as an arts management intern.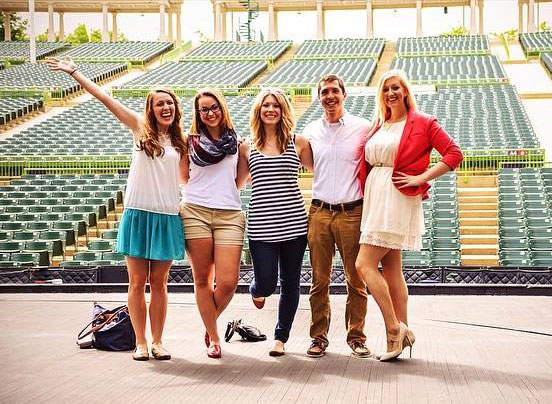 Personalizing the College Experience
Witnessing the creativity and structure that goes into a theatre production inspired O'Brien to consider college as a blank slate. Right before the start of classes at Truman, he opted to start out as an undeclared student because he wanted to be able to explore different options. After spending time learning about the fields he felt were the best match for his interests, he decided to major in music.
"At Truman, I was encouraged to explore any and all interests I had, even if they didn't pertain to my major," says O'Brien. "A lot of really incredible professors opened their doors to me, even when I wasn't in their department because they saw I had an interest and wanted to learn."
Taking courses outside his major gave O'Brien a chance to discover his true passion for the theatre world while also expanding his knowledge in many other areas. He also acquired experience and connections through his involvement in several organizations including the Index newspaper, Student Ambassadors, Phi Kappa Phi, National Society of Collegiate Scholars, Pi Kappa Lambda, Phi Mu Alpha, and Campus Pals.
"You never know when a college extracurricular or a seemingly random course will help you land a job or promotion," O'Brien says. "Truman allowed me to study music, manage the student newspaper, run marketing for various organizations, serve on the executive board for a Greek organization, and take courses in music and history in Salzburg, Austria, among other things."
Adapting to Different Roles
After graduating with a Bachelor of Arts in music in 2014, O'Brien packed a duffel bag and moved to New York City to begin his first post-grad internship with the New York Musical Theatre Festival. "I have always loved being creative but am a very business-minded individual who likes working behind the scenes," O'Brien says. "Once I learned that there were jobs in the arts that combined business and creativity, there was no turning back."
Over the next three years in New York, he worked a variety of jobs with commercial and nonprofit companies on and off Broadway to gain experience and build his resume. Working his way up to the position of company manager for the Roundabout Theatre Company, he ventured throughout New York working on shows. "One of the more exciting moments of my career was sitting in the audience at the Tony Awards when a show I worked on won the Tony for Best Play," says O' Brien. "The Humans was one of my first shows at Roundabout Theatre Company and was my first glimpse into the world of company management."
Eventually, O'Brien decided to take his talents back to his hometown of St. Louis and work at the Fabulous Fox Theatre. He now serves as the director of programming at the Fabulous Fox where he never expects two days to be alike. "One day I could be negotiating contracts for upcoming shows or talking with booking agents about new shows to bring to St. Louis and the next I could be in NYC seeing a new Broadway show or sitting in a meeting to discuss new projects," says O'Brien. "The biggest challenge (but also the most exciting part) is wearing many different hats and looking at a show from different perspectives," O'Brien says.  At the end of the day, his goal is to bring the best of Broadway to St. Louis.
From traveling to New York to check out new shows, to organizing extravagant shows in St. Louis, O'Brien receives the most enjoyment from his audience and their reactions to the amazing shows that enter the Fabulous Fox Theatre.  "It is incredible to have a job that allows me to bring the shows I know and love from New York to the people I know and love in St. Louis," says O'Brien.
More than having one specific set of skills, O'Brien feels the most essential qualities for a person who wants to work in the arts is having persistence, dedication, and flexibility. "Many of the skills related to working in arts management are learnable, so it is really about going into a position with positive energy and the desire to learn and succeed," says O'Brien. "Working in theatre can be exhausting and frustrating but is incredibly rewarding if you are willing to dive in and get your hands dirty."
As a careful planner who likes to always be three steps ahead, O'Brien says the hardest lesson he's had to learn is that life (at least in the arts) can't be micromanaged. "In theatre, opportunities come and go when you least expect them, and it's about knowing when to jump," says O'Brien. "I've had to let go of my micromanaging tendencies because as carefully as I plan there's no predicting what will come."
When asked what advice he would give to Truman students, O'Brien encourages students to try new things and explore anything and everything. "Create opportunities for yourself, take courses you know nothing about, join a variety of organizations, study in a country you've never been to," says O'Brien. "I have a job I've always dreamed of, but I've gotten here on a path I could have never possibly predicted."
Photo at top: John O'Brien and the cast of The Humans at the Roundabout Theatre Company in New York. John is on the back row, second from the left.
---
More stories