Students Spread Love of Reading to Local Children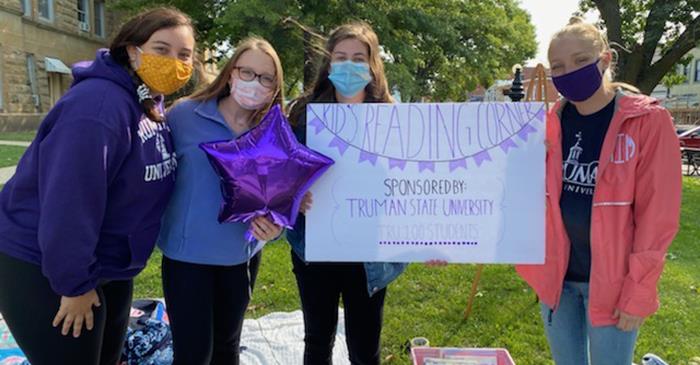 Students (from left) Annika Lawless, Lillian Conger, Sydney Bowman and Addy Inlow celebrate the inaugural Kids' Reading Corner event. Each Saturday from Sept. 19 through Oct. 31, Truman students will take turns reading to kids on the lawn outside of the courthouse during the farmers' market in downtown Kirksville.
Sept. 19 marked the first of what will be many events during the next few months where new Truman students promote literacy to area children.
Freshmen Sydney Bowman, Lillian Conger, Addy Inlow and Annika Lawless created the Kids' Reading Corner, which debuted at the Kiwanis Farmers' Market in downtown Kirksville, Sept. 19. The students took turns reading to children, and they brought age-appropriate books for older children as well. After setting up camp on the courthouse lawn – complete with balloons, blankets and pillows – area youngsters stopped by the inaugural Kids' Reading Corner while their parents and guardians were at the farmers' market.
Headlines
---
Sports
---
Featured Stories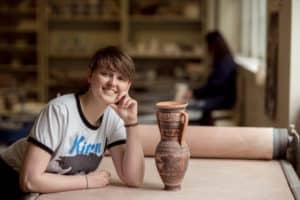 STUDENTS
Art is Life
"I'm attracted to both fibers and ceramics because as a discipline they both started as purely functional objects. There is no practical reason for people to add decoration to the surface of a pot or intricately sew patterns into cloth, and yet we do."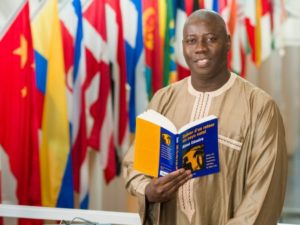 FACULTY
Here to Help
Originally from Senegal, Sana Camara uses a teaching philosophy characterized by gentleness and good humor. Nonetheless, he also believes students should always be challenged so they can appreciate the value of their knowledge.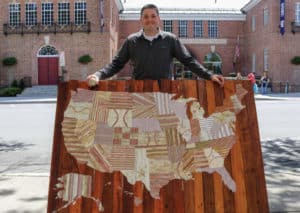 ALUMNI
A Way to Pass the Time
"There's just something awesome about taking something tattered, torn, used, forgotten – these baseballs that have definitely seen better days, ones that most coaches would just throw away – and just turning them into beautiful pieces of art."
More stories
Follow Us on Twitter