Truman Alumni Reunite to Help Global Vaccine Efforts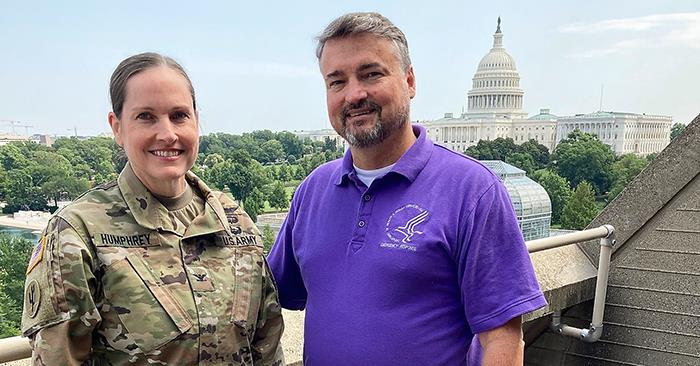 Alumni Rachel Humphrey and Bryan Heartsfield are leading the way to make sure everyone in the world has access to the COVID-19 vaccine.

Truman has been the home of the bulldogs for more than 100 years. In 1915, the mascot was selected by students to represent the school because of its perseverance and ability to hold on and fight until the very end. With that in mind, it makes perfect sense that two Bulldogs are currently leading the effort to help the nation – and the world – defeat a pandemic.
Rachel Humphrey ('95) and Bryan Heartsfield ('92) are two of the leaders in the fight against the coronavirus. Humphrey, an Army Colonel, is the chief of plans for the COVID-19 Countermeasures Acceleration Group. Through his role with the Health and Human Services Office of the Assistant Secretary for Preparedness and Response, Heartsfield is the Strategic National Stockpile lead public health advisor. In short, the two are working together out of Washington, D.C., to make sure everyone on the planet has access to a vaccine.
Truman ROTC was the first outfit to bring the duo together. Heartsfield was a senior cadet when Humphrey came in as a freshman. Their time at the University only overlapped one year, but their paths crossed again when their military careers had them both in Kuwait in 1999. They have remained friends ever since, but neither was prepared to see them brought together for the biggest global health initiative in a generation.
"I was briefing during a morning 'stand-up' national coordination call from the Vaccine Operations Center where all of the leaders on site gather and update federal partners across the nation using a conference line," Heartsfield said. "She was standing in the room. What a small world. To both be assigned to a national-level response out of a certain room in a certain building in Washington, D.C., was just shocking."
More Headlines
---
Sports