Music Department—Programs and Studios
Double Reed Studio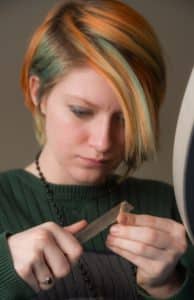 Truman offers oboists and bassoonists many opportunities for musical performance, including Wind Symphony, Concert Band and Orchestra. Double reed students are eligible to compete in the Gold Medal and Wind Symphony solo competitions held each year. Winners of these competitions perform solo works with our top Truman ensembles. In addition, the double reed studio gives a recital featuring solo and small ensemble music.
Every week, double reedists get together to hone our reed making skills in a class dedicated to making and adjusting reeds. All levels are welcome as we set individual goals, but we work as a group to support and learn from one another.

Guest Performers
We regularly invite guest teachers and performers to Truman. Recent guests include Shawn Sequin, professor of bassoon at Oklahoma State University and William McMullen, professor of oboe at the University of Lincoln-Nebraska.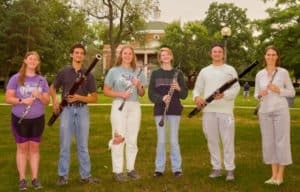 Truman's double reed students frequently place at MMTA competitions and are chosen for All-Collegiate ensembles at the annual MMEA convention.
Graduates of the double reed studio at Truman have gone on to a variety of careers. Music Minors have found eclectic paths. Graduates have become doctors, nurses, regular education teachers and have found careers in ministry and the arts. Music Majors have been accepted to Masters programs in Music at schools such as Indiana University, Ball State University, UMKC and Florida State University and Truman State University. Others have won auditions for service bands and some have successful careers in our public school music education system.
Whatever path you envision for yourself, Truman will help you get there with community and joy along the way!
To learn more about the double reed program, contact Professor Elaine AuBuchon elainea@truman.edu