New Technologies, Assistive Technology and AAC Resources
Jumpstations for Communication Disorders
Many times using a jumpstation is more efficient than starting from scratch. A jumpstation is a collection of related links to other web sources; the information is actually stored and updated elsewhere, but the links are collected in one place for the sake of convenience. By far the most used, most elaborate, and most reliable jumpstation in communication disorders is Net Connections, developed and maintained by Judith Kuster:
A jumpstation for podcasts related to communication disorders and other rehabilitation topics as well as links to excellent online therapy activities  (Dr. Paula Cochran).
Pickler Memorial Library, Truman State University

Missouri Secretary of State, Wolfner Library
The Wolfner Library provides materials for people who are unable to access printed books because they are blind or physically impaired. The resource page is a collection of links about state and national disability resources.
Using the Internet for Professional Education and Information
A Selection Representing the Scope of Available Information:
Using the web to help clients and families get support and information
Fragile X Syndrome and Genetics Resources (thanks to Rachael Suddarth)
Using the Internet as a Resource for Therapy Activities and Materials
Use the web to find and try new products, utilities and clinical software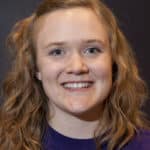 I love how easy it is to get to know people at Truman because of the size. Whenever I go to class or attend an event on campus, I always know at least a handful of people.