At Truman, you're strongly encouraged to pursue internships as an extension of your in-class learning experiences. Internships allow you to use classroom theory in the practical realm of the workplace, learn about current practices in agriculture, improve your interpersonal skills, and much more.
Notable internship opportunities include…
Danforth Plant Science Center
W.H.Miner Institute (equine breeding)
Boehringer-Ingelheim (ag pharmaceuticals)
Monsanto (plant breeding)
Ranch work (Nebraska, Montana, Wyoming)
Case-IH Equipment (marketing)
Aldi Foods (management)
Farm to School Program Internships
Internship positions in fruit and vegetable production and marketing are available during the summer for the Farm to School Program.
About the Farm to School Program>>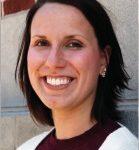 Truman's Agricultural Science Department allows students not only to have plenty of one-on-one attention with professors, but also with other Agricultural Science majors. All of us majors are like a family and are willing to help each other out, whether that might be tutoring for a class or assistance in finding a summer internship.