Learning at Truman extends beyond the traditional classroom, and students are strongly encouraged to pursue internships as an extension of your in-class learning experiences.  Internships allow you to use classroom theory in the practical realm of the workplace, learn about current practices in agriculture; improve your interpersonal skills, and much more.
Agricultural Science Internships
Here's a sampling of some internships held by our students that illustrates the broad perspective for these types of out-of-class learning opportunities.
Beaumont/Nagel Boy Scout Camp, High Ridge, Missouri
Camp Conestoga, Girl Scouts of the Mississippi Valley, Dixon, Iowa
Camp Foster, YMCA of the Okobojis, Spirit Lake, Iowa
Camp L-Kee-Ta, Girl Scouts of Danville, Iowa
Collins Belah Valley, Woolsthorpe Station, Agnes Banks Equine Clinic, and Burke Stud, Queensland and New South Wales, Australia
Double "H" Hole in the Woods Camp for terminally and chronically ill children, Adirondack Mountains in Upstate New York
North Carolina State University Center for Environmental Farming Systems, Goldsboro, North Carolina
Philmont Scout Ranch, Cimarron, New Mexico
Shaw Nature Reserve, Missouri Botanical Gardens
United States Department of Agriculture, NRCS, Henry County, Missouri
United States Department of Agriculture, NRCS, Shelbyville, Missouri
United States Department of Agriculture, NRCS, Warren and Montgomery Counties, Missouri
United States Department of Agriculture Meat Animal Research Center, Clay Center, Nebraska
You cn explore a number of Internship Resources to learn about internship opportunities at Truman that can help you reach your professional goals.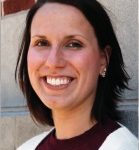 Truman's Agricultural Science Department allows students not only to have plenty of one-on-one attention with professors, but also with other Agricultural Science majors. All of us majors are like a family and are willing to help each other out, whether that might be tutoring for a class or assistance in finding a summer internship.