Dining on Campus
Public university in the Midwest for 18 years running (U.S. News & World Report)
As an active student at Truman State University, we know you have a busy schedule so we take care of your dining needs for you. Whether you want an omelet prepared just the way you like it or you're in the mood for home-style food, we have something for everyone. And to make it even easier, your meal plan and dining dollars can be added to your student ID so you don't have to worry about carrying cash.
Enjoy Home-Style Meals
If you want variety, you will find it at the Mainstreet Market food court in the Student Union Building which features Original Burger, Godfather Pizza, Chef Features, and Theme Cuisine, along with a special line of sandwiches, salads, and desserts when you need something quick. In addition to hot breakfast items, you can design your favorite omelette.
Finding your favorite foods on campus is a snap at one of the dining rooms located within three of the residence halls. These all-you-care-to-eat buffets make it easy to find what you need with fresh fruit and salads, deli choices served on freshly baked bread, hot, home-style entrees, and much more. Meals plans for the residence hall cafeterias are available to students who do not live in a residence hall.
Coffee & Pastries
You can't help but enjoy the smell of fresh brewed coffee and fresh baked pastries when you walk past Jazzman's Café which has two convenient locations on campus: one on the main level in the Student Union Building and another on the first floor of Pickler Memorial Library.
Salads, Soup, Sandwiches & Desserts on the Go
When you need to get a quick bite to eat, stop by Zime, a bistro located right next to Jazzman's Café in the Student Union Building. Featuring simple fare that's ideal for busy students, you can get sandwiches made to order, soups, salads, and and  fresh-baked pastries like flavored croissants. Food is served quickly, and Zime's daily- and weekly-changing items provide plenty of variety.
Convenience Stores
When you need some little extras, great munchies or a quick grab-and-go treat, you can drop by one of the University's two convenience stores located right on campus in Dobson Hall (first floor) and West Campus Suites (first floor).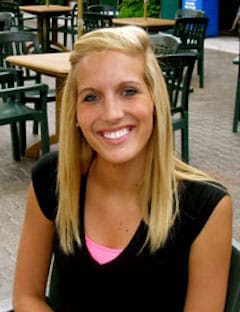 "I found it very relaxing to get away from the hustle and bustle of a big city and get the chance to enjoy all of the aspects of a smaller town. This town is a wonderful place to enhance your college experience."
– Bethany Williams ('13), Communication Major