Family Day at Truman State University
Saturday, Sept. 13, 2014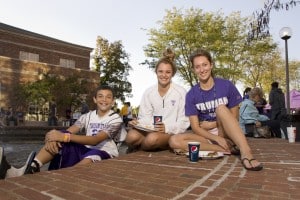 We're thrilled you are joining us for this annual tradition that welcomes parents and family members to campus! There's always something happening on campus, and we have a full schedule of events planned especially for Family Day.
Spend some quality time with your student, create some lasting memories, stop by the University Bookstore to stock up on Truman gear, and most important of all, have lots of fun.
---
WEEKEND EVENTS

FRIDAY, SEPT. 12
Truman Women's Soccer vs. University of Illinois-Springfield
1 p.m.
Truman Soccer Field
Truman Men's Soccer vs. University of Illinois-Springfield
3:30 p.m.
Truman Soccer Field
Fireside Friday
Live music and entertainment will be provided by Truman students. Free food, prizes and popcorn! Sponsored by the Student Union & CSI.
4:30-6:30 p.m.
Student Union Building HUB
SATURDAY, SEPT. 13
Truman Baseball Scrimmage
10 a.m.
Truman Baseball Field
Library Tours
10 a.m.-noon
Pickler Memorial Library
Paint Party 5K Run
A 5K fun run where participants will be covered in colored powder at various points along the course. Proceeds support the YMCA and the SeriousFun Children's Network, which provides positive, recreational experiences to children with serious illnesses. For more information, email aab8874@truman.edu. Sponsored by Phi Kappa Tau fraternity and the Adair County YMCA.
10:30 a.m. (Registration available at the event. Check-in starts at 9 a.m.)
Adair County YMCA, 1708 Jamison Street; (660) 665-1922
Truman Softball Scrimmage
11 a.m.
Truman Softball Field
University Art Gallery Faculty Exhibit
Noon-4:30 p.m.
University Art Gallery
Truman Volleyball vs. University of Wisconsin Parkside Rangers
1 p.m.
Pershing Arena
Annual Festival Centennial
1-4 p.m.
Centennial Hall Courtyard
Student Activities Board Entertainment: Campus Feud
Family Feud type interactive game show with prizes and fun for all.
4 p.m.
Baldwin Auditorium
Barbecue
Tickets cost $8.50 and must be purchased in advance. $4.50 for kids 8 and under. Please bring a blanket or lawn chairs as seating is very limited.
MENU: Vegan Riblets, Grilled Chicken Breast Sandwich, Hamburgers, Roasted Red Potatoes, Seasoned Sautéed Veggies, Fresh Fruit Salad, Pumpkin Bars, Beverages.
*If a student has a meal plan, they do NOT have to purchase a meal ticket. Tickets will not be mailed. After you send your payment, please have your son or daughter stop by the Public Relations Office, McClain Hall 202, to pick up your tickets after Aug. 27. Confirmation of reservation will be sent by email upon receipt of payment.
QUESTIONS? Call (660) 785-4016. For those who have not purchased tickets, there will be a very limited number available at the Barbecue on a first-come, first-served basis.
5-6:30- p.m.
Student Union Mall
(Rain site: Student Union Building)
Bulldog Football vs. Langston University (Okla.)
General admission tickets are $8 for adults and $5 for senior citizens and K-12. Admission is free to Truman students with a Truman ID. If you did not purchase advance tickets, general admission tickets will be available at the game. For more information, call (660) 785-4276
7 p.m.
Stokes Stadium
SUNDAY, SEPT. 14
Truman Volleyball vs. Lewis University Flyers
I p.m.
Pershing Arena
Truman Women's Soccer vs. University of Southern Indiana
1 p.m.
Truman Soccer Field
Truman Men's Soccer vs. University of Southern Indiana
2:30 p.m.
Truman Soccer Field
EXTRAS

SATURDAY, SEPT. 13
Red Barn Arts & Crafts Festival
For more information, visit www.kirksvillearts.com/newsite
9 a.m.-4 p.m.
Downtown Kirksville
Kirksville Arts Association Gallery Exhibit
Sierra Club's "50 Years of Wilderness"
The exhibit will also include regional artists' interpretation and appreciation of the wilderness in America.
(660) 665-0500
117 S. Franklin Street
Downtown Kirksville
---
Have questions about Family Day?
Email pr@truman.edu or call (660) 785-4016.