Family Day
value in the nation among public colleges & universities (Consumers Digest)

Join Your Student for Family Day


Saturday, Oct. 1, 2016



The annual tradition of Family Day at Truman State University welcomes parents and family members to campus for a weekend of special events ranging from Bulldog sporting events to a barbecue on the Mall. Plan to spend some quality time with your student, create some lasting memories, and most important of all, have lots of fun.
It is always very hard to find a hotel room for the weekend of Family Day. If you are able to drive in for Saturday only, your son or daughter will be most interested in updating you about the first month of school and replenishing supplies!
Family Day Schedule of Events

Weekend Events

FRIDAY, SEPT. 30, 2016

Fireside Friday
Live music and entertainment provided by Truman students. Free food and popcorn. Sponsored by the Center for Student Involvement
3:30-5:30 p.m.
Student Union Building HUB
Women's Volleyball vs. Rockhurst
7 p.m.
Pershing Arena
Jazz Ensemble and Jazz Lab Performance
8 p.m.
Ophelia Parrish Performance Hall

SATURDAY, OCT. 1, 2016

Truman Baseball Scrimmage
10 a.m.
Truman Baseball Field
Library Tours
10 a.m.-Noon
Pickler Memorial Library
5K Run
Information on registration, cost & location will be provided later on - please check back for more details. Sponsored by Phi Kappa Tau fraternity.
10:30 a.m.
Truman Softball Scrimmage
Noon
Truman Softball Field
Zipline and Bubble Soccer
Both activities will be weather permitting

Noon-6 p.m.
TBA
University Art Gallery Faculty Exhibit
Noon-4:30 p.m.
University Art Gallery
Annual Festival Centennial
This event is hosted by the Centennial Hall Council.
1-4 p.m.
Centennial Hall Courtyard (Rain site: Centennial Main Lounge)
Women's Volleyball vs. William Jewell
1 p.m.
Pershing Arena
From Earth to the Universe Planetarium Show
Cost: $5 per person at the door
2 p.m.
Del & Norma Robinson Planetarium,
Magruder Hall

Seven Wonders Planetarium Show
Cost: $5 per person at the door
3 p.m.
Del & Norma Robinson Planetarium,
Magruder Hall
Truman State University Speech & Hearing Clinic Open House
3-5 p.m.
Health Sciences Building
Barbecue
Tickets cost $8.75* and must be purchased in advance. Tickets for kids 8 and under are $4.50. Tickets can be purchased online beginning Sept. 5.

MENU: Hamburgers, Grilled Chicken Breast, Vegan Riblets, Roasted Potatoes, Seasoned Green Beans, Fresh Fruit Salad, Pumpkin Bars, & Beverages.

*If a student has a meal plan and still has an available meal by the Saturday evening Barbecue, they can use their meal plan. If they are out of meals or do not have a meal plan, they will need to purchase a meal ticket for the Barbecue.

Barbecue tickets will not be mailed. After you send your payment, please have your son or daughter stop by the Public Relations Office, McClain Hall 202, to pick up your tickets after Sept. 12. Confirmation of reservation will be sent by email upon receipt of payment.
.
5-6:30- p.m.
Student Union Mall
Bring a blanket or lawn chairs. Limited seating will be available outdoors and on the 1st floor of the Student Union Building.
Bulldog Football vs. Indianapolis
General admission tickets are $8 for adults and $5 for senior citizens and those in K-12. Admission is free to Truman students with a Truman ID. Tickets will be available at the ticket windows before the game or, starting Aug. 1, tickets can be purchased online at TrumanBulldogs.com. For more information, call 660.785.4276.
7 p.m.
Stokes Stadium
Orchestra Concert

8 p.m.
Ophelia Parrish Performance Hall

SUNDAY, OCT. 2, 2016

Wind Symphony I & II Concert
2 p.m.
Ophelia Parrish Performance Hall

Extras

SATURDAY, OCT. 1, 2016

Red Barn Arts & Crafts Festival
This fun outdoor event celebrates arts, crafts, food, dance and music on the historic downtown square a few blocks from campus. The festival is named after Red Barn Park on the Truman campus which was the original location for the event. For more information, visit the Kirksville Arts Association.

9 a.m.-4:30 p.m.
Downtown Kirksville
Schedule is subject to change.
---
Questions about Family Day?
Contact the Office of Public Relations, pr@truman.edu, (660) 785-4016.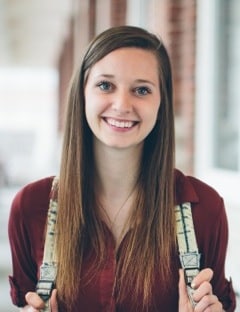 "My favorite aspect of Truman is the sense of community. I love knowing so many people around campus and having so many great opportunities that I might not have at a larger university."
– Neva S., Creative Writing Major, Theatre Minor