News & Stories
Top Headlines
Spring 2016 Commencement Photo Gallery
Congratulations to all of our spring graduates! In spite of the rain, campus photographer Tim Barcus captured some memorable moments — including an abundance of joy and pride — at the Truman State University Commencement ceremony on the Quad and in Stokes Stadium on May 7. We are so proud of all the graduates who are pursuing their dreams all around the world.
View photo gallery»
Truman Recognized as Missouri's "Hidden Gem"

For the second consecutive year, Truman has earned the distinction of being named the best "hidden gem" in the state of Missouri.

College Raptor Inc., a college matching platform, recently released its second-annual list of hidden gem schools for each state. In order to qualify, institutions must have received fewer than 5,000 applications in the previous application cycle for which data is available and enroll at least 1,000 undergraduate students. From this set, the top-ranked college, nationally, was selected from each state.
More»

President Troy Paino's Last Lecture Now Available Online
President Troy Paino's "Last Lecture" is now available on the University YouTube channel. Paino closed out the Student Activities Board Last Lecture series April 27 in Baldwin Hall Auditorium with his presentation titled "On Saying Goodbye: The Power of Letting Go."
Go to video»
Tetlak Recognized as Educator of the Year, Gokhale Named Research Mentor of the Year

Alex Tetlak was named the Educator of the Year and Vayujeet Gokhale earned Research Mentor of the Year honors during the annual Accolades of Academics banquet in April.

These awards seek to honor outstanding faculty at Truman who have devoted extraordinary effort to invest in their students.

Tetlak is an instructor in classics. He was nominated by Bailey Jarman, Wyatt Mansell and Taylor Burgert. Other nominated faculty members include Jeff Gall, Diane Janick-Buckner, Curran Prendergast, Robert Tigner and Alicia Wodika.
More»

Truman Students Win Gould Scholastic Award

Two teams of Truman students received first and second place in the Robert L. Gould Scholastic Award, earning a combined $17,500.

The Gould Scholastic Award recognizes outstanding students who write papers on designated topics related to the financial services industry. This year, submitted papers were expected to address the potential impact of technology and innovation on the financial services industry and its services models during the next 10 years.

First place and a $10,000 cash award went to Truman students Julian Fung, a business administration and computer science major, and Lasse Fuss, an interdisciplinary studies major, for their paper, "Capturing Value from Millennials with Integrated Financial Technology."
More»

Truman Students Selected for State Department Scholarship

Margaret Wilcox and Luke Bishop have both been selected to receive the U.S. Department of State Critical Language Scholarship for summer 2016.

The CLS program is part of a U.S. government effort to expand dramatically the number of Americans studying and mastering critical foreign languages. These exchange programs are designed to build relations and respect between the people of the United States and the people of other countries.

Wilcox will study Swahili in Arusha, Tanzania. Bishop will study Azerbaijani in Baku, Azerbaijan.
More»

Volleyball To Conduct May Clinic For Area Kids

The Truman volleyball program will conduct an All-Skills Clinic for players entering grades 4-12 from 9 a.m.-11 a.m. May 24, 25 and 26 in Pershing Arena.

Head coach Ben Briney and assistant coach Megan Wargo-Kearney will instruct players on all fundamental skills with lots of individual feedback. The cost is $20 per individual session or $50 for all three days.
More»
Sports
More Sports News
________________________________________
Featured Stories
________________________________________
Featured Videos
See how art major Sarah Burns experienced a deeper understanding of Western art by observing it firsthand in her study-abroad travels through Europe.
Learn the cutting-edge research in human movement and sports that our students are doing in the Exercise Science program at Truman.
________________________________________
Photo of the Week
A graduation photo opportunity with Spike captures a joyous occasion.
More photos»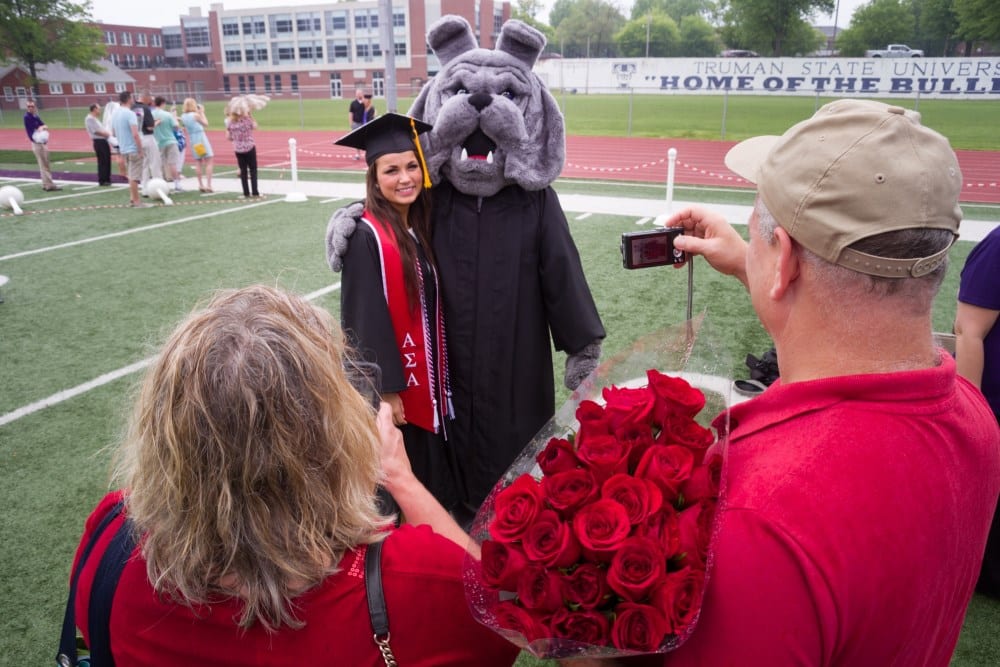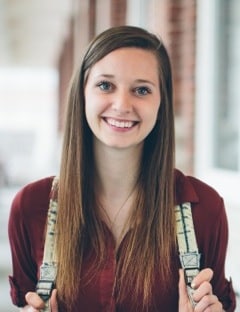 "My favorite aspect of Truman is the sense of community. I love knowing so many people around campus and having so many great opportunities that I might not have at a larger university."
– Neva S., Creative Writing Major, Theatre Minor