Jazz Program
If you like to swing, there are many opportunities for you at Truman!
A Lively Community of Learners
You can perform in one of the large Jazz Ensembles or small Jazz Combos, pursue the Jazz Minor, and take classes in Jazz Improvisation, Arranging, Pedagogy, and History.
The annual JazzFest brings opportunities to perform and learn from world-famous musicians – recent guest artists have included:
Clark Terry
Slide Hampton
Jon Faddis
Bill Watrous
Randy Brecker
John Abercrombie
Matt Wilson
Ben Allison
Ingred Jensen
Ethan Iverson
Preparing for Lives That Matter
We're proud of our jazz alumni who are currently working as professional jazz performers and educators:
Jo Ann Daugherty (Chicago, IL)
Bill McKemy (Kansas City, MO)
Ken Kehner (Jefferson City, MO)
Bob Long (St. Joseph, MO)
Mike Metheny (Kansas City, MO)
Dave Kobberdahl (Des Moines, IA)
Wayne Page (Des Moines, IA)
If you have any questions about the jazz program at Truman, contact Professor Tim AuBuchon.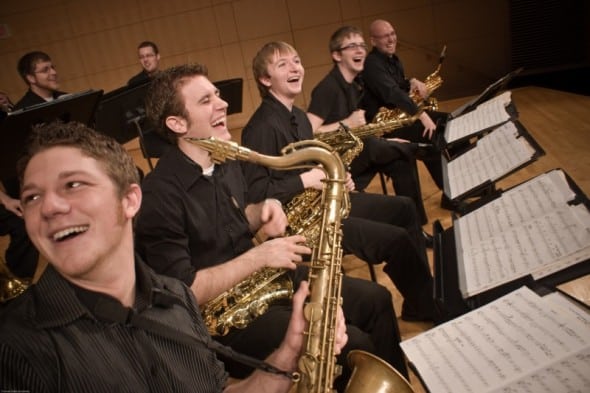 News
23 April 2015 | 2:08 pm

On Saturday, April 18th seven Truman clarinet students traveled with Dr. Jesse Krebs to Lincoln, Nebraska to participate in the 2015 Midwest ClariFest: Taeyeong Jung, Joelle Beusterien, Cory Hogan, Timothy Clasby, Meranda Dooley, Brianna Broach, and Andrew Wolf.  Freshman music major Meranda Dooley was selected to perform in a morning master class with the featured […]

30 March 2015 | 7:31 pm

Congratulations to Truman music alumnus Katharine Scharff (B.A. '13), who has just been hired by the Haynes Flute Company in Boston, MA as a flute craftsman.  Katharine is currently completing her post-undergraduate work at Redwind Technical College as a woodwind repair technician, and she has already been employed by Haynes before she even graduated!
Calendar