Jazz Program
If you like to swing, there are many opportunities for you at Truman!
A Lively Community of Learners
You can perform in one of the large Jazz Ensembles or small Jazz Combos, pursue the Jazz Minor, and take classes in Jazz Improvisation, Arranging, Pedagogy, and History.
The annual JazzFest brings opportunities to perform and learn from world-famous musicians – recent guest artists have included:
Clark Terry
Slide Hampton
Jon Faddis
Bill Watrous
Randy Brecker
John Abercrombie
Matt Wilson
Ben Allison
Ingred Jensen
Ethan Iverson
Preparing for Lives That Matter
We're proud of our jazz alumni who are currently working as professional jazz performers and educators:
Jo Ann Daugherty (Chicago, IL)
Bill McKemy (Kansas City, MO)
Ken Kehner (Jefferson City, MO)
Bob Long (St. Joseph, MO)
Mike Metheny (Kansas City, MO)
Dave Kobberdahl (Des Moines, IA)
Wayne Page (Des Moines, IA)
If you have any questions about the jazz program at Truman, contact Professor Tim AuBuchon.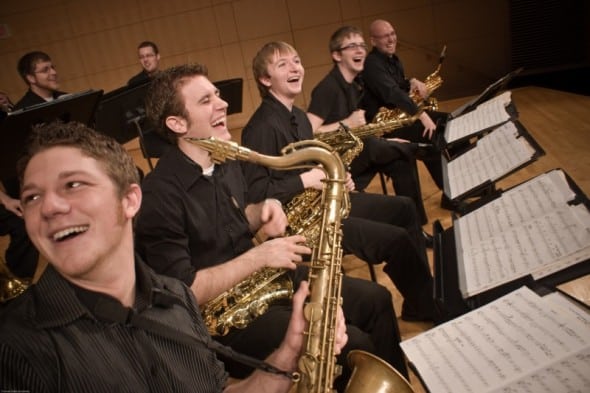 News
26 September 2016 | 3:17 pm

Truman State University Symphony Orchestra will feature guest soloist Giuseppe Bruno in their upcoming concert on Oct. 1, 2016. The free concert will take place at 8 p.m. in the Ophelia Parrish Performance Hall, and will feature a selection of carefully chosen pieces from Giuseppe Verdi, Boris Blacher, Wolfgang Amadeus Mozart and Maurice Ravel. Dr. […]

19 September 2016 | 2:13 pm

Truman musicians will perform newly composed works by Truman composers.  This hour-long concert will include music for a variety of groups: chamber choir, solo instruments, electronic music.
Calendar