Certification
of Truman education majors do an internship
Teaching Certification Programs
For those Master of Arts graduates who want to be certified to teach, they must complete additional assessments.
Secondary

English
Mathematics
Science (Biology, Chemistry & Physics)
Social Science

K-12

Exercise Science
Foreign Language (French & Spanish)
Music
Special Education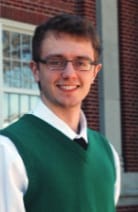 ""The MAE program inspires me to explore education through immersive experiences. The instructors constantly encourage me to contemplate and construct my own philosophy of education, and then urge me to apply it in diverse and challenging situations.""
– Matthew Matheney, Math & Physics Double-Major/MAE